It seems like you can hardly spit these days without hitting a podcast. Spit at me, I am at it too!
What you can do these days (like having a web based multi-source recording studio, like Zencastr is far ahead of what I was doing in 2006 with a tiny pocket sized digital recorder.
I've had a long running show I do with Antonio Vantaggiato, the Puerto Rico Connection (our frequency of episodes might be measured in years, but hey, it's a podcast). I've done a small side project producing one for the leadership site for BC Corrections, it's called CorrTalk.
But I've been doing the most in the last year for my work with OEGlobal, where I plan, record, edit, and publish the OEG Voices podcast.
I just did a new episode that I feel like has a clever flip on the normal mode. So follow my wayward line of reason.
If I ask you to be on a podcast I produce, it is ike I invite you over to my house, it's my setup (Zoom, Zencastr, whatever), and you drop in. We talk, and you go home.
For this newest OER Voices, the subject lent itself to changing that. I wanted to run a conversation with my friend and colleague Ken Bauer, who is at the Tec de Monterrey in Guadalajara, Mexico. What I wanted to talk about is his long running (it's like as old as the pandemic) meet up he calls Educator Coffee (or Tea) Time aka #educoffee.
You would find word of Ken's #educoffee sessions as the appear on The Twitter:
I approached Ken a few weeks ago with my podcast flipped idea. I wanted to record an episode of my podcast and invite Ken, but instead of having him come to my place, I suggested I record it in his spacem during an actual educoffee session.
Ken said yes, and we agreed to record this on October 7. And I suggested if he wanted he could invite anyone he wished.
As it happens, I did one of those timezone faux pas, and had entered it for his time rather than my time in my calendar (he is an hour ahead of me). So I get a DM message (very polite as Ken is) like "we are here!" So Is scrambled to find my headphones, locate his zoom link and show up late.
We had a great group! It was a Hollywood Squares 3×3 grid with some folks I know and others I met- we had representation from the UK, Mexico, Paraguay, and across the US.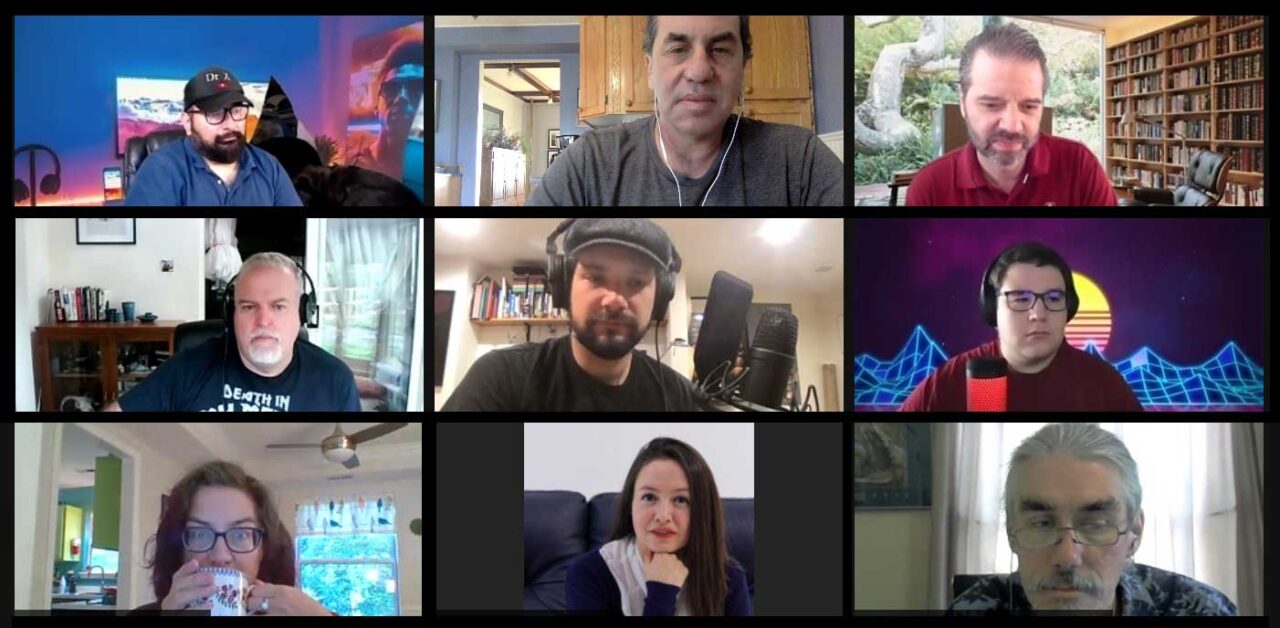 Oh yes, the podcast! It was a fantastic freeform conversation, much of which was around this open spce Ken had created where people can decompress, vent, or just share their dogs. I can make you click you the site to listen
but just as easily run it from here.
I appreciate Ken and everyone in the space being okay with my hijacking the coffee time.
I like this idea I call "Podcast on the Road" and have at least one more situation where I will join someone else's session and record an episode there.
What do you think?
To me it feels a little different, but maybe it's just another gimmick? But if you do a podcast or have some kind of meeting/discussion space online and want to talk about openness and education, I'd like to drive up in my podcast van.
---
Featured Image: A remix of Outside Broadcast van: Mascot: ACC Stevens and Harry Croot flickr photo by ABC Archives shared under a Creative Commons (BY-NC) license where I inserted OEG logos and changed the words on the side of the van. Because I can.