I actually am not ready to blab about the Twitterpocalypse- instead I am experimenting with a "toot" from Brian Bennett, who I have been path crossing (pre-Twitter)? via ds106.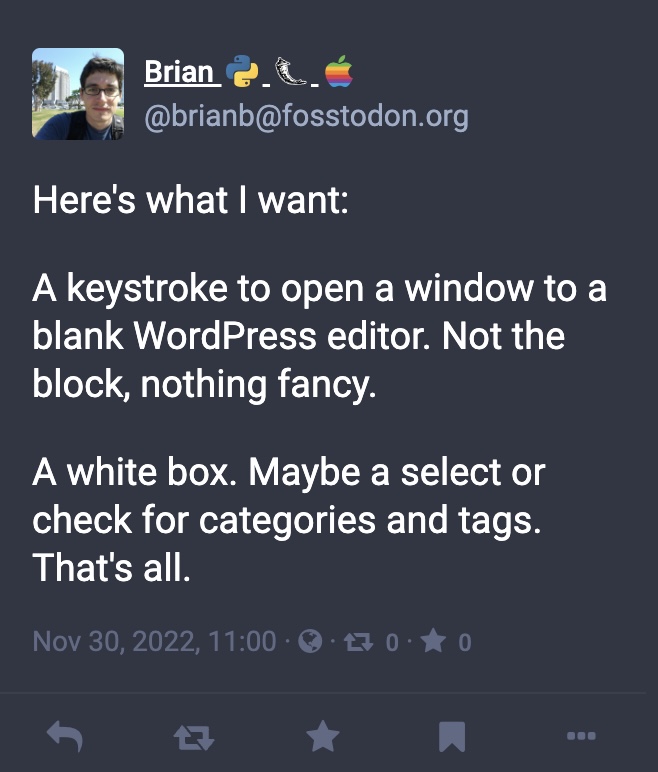 I remembered there was once a JavaScript bookmarklet for quick posting built into WordPress… it's not in core anymore, but available as a WordPress Plugin
Once installed, it shows up under Tools in your Dashboard, where you can drag a doohickey to your Bookmarks bar.
Then, while wandering around on the web, you might come to something you want to blog about, say some guy's blogpost, about, of all things, Twitter and Mastodon and blah blah blah.
I can select a chunk of text, click Press This! and now I am blogging in a simple interface. It's a bit like a reduced classic editor. I can even choose to add in Brian's feature image:
The great Twitter Migration is causing all sorts of hype around Mastodon, but, in my opinion, for the wrong reasons.People disillusioned with Twitter since Musk took over are flocking to Mastodon to the tune of hundreds of thousands of registrations per day. That is astronomical growth for what has been, for the last several years, niche communities of people around shared interests.
Source: Mastodon is Not a Twitter Replacement – ohhey[blog]
Quick and easy?
Not much else I can do, but a way to do quick posts. Oh, Hey, Brian, Hi.
Featured Image: