I am going to regret this, but 8 years after a tortuous mess of an extraction from (yecch I just hate typing in), well that "professional" social network that rhymes with "StinkedInn" I have been foolish enough to step back in there.
But there was a work thing that really demanded me to see some posts, and because this network only pretends to be of the web, I got weary of all the end arounds it took to get to see more or less something that exists on the web, behind the blue velvet ropes.
I got the info I needed, and already feel wave of regret.
Yes, I know conventional saying is that it's important to be in there with all the other adults.
I decided I would make my profile the dullest lamest one ever and that it would just sit there in an obscure corner.
Save your time and do not look for me, ok?
I've not been following, not returning links, nor clicking on the 3 kajillion emails it sends me, the best ones with subject lines like "Alan, you're really getting noticed".
If you have clicked to follow and feel dissed that I have not reciprocated, it's because I want to be a small thorn inside the algorithm, an outlier that clunks like a rock in the machine works.
Yeah, right, as if it makes a difference.
I am not playing the Linked** game, I will not eat click blue eggs and ham, Sam I am.
UPDATE: Jan 25, 2023
I turned off my public visibility, but people keep finding me.
Stop looking at my profile! And see how stupid an algorithm can be.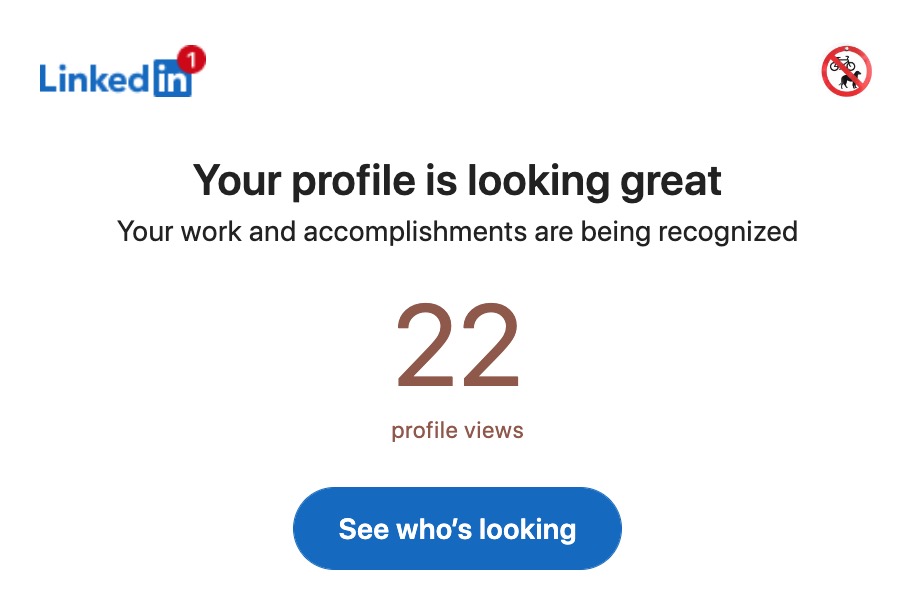 ---
Featured Image: 2014/365/57 Ignore All Warnings flickr photo by cogdogblog shared under a Creative Commons (BY) license the sign reading "road closed ahead" modified to read "Dullness Ahead" and in the background is a slightly transparent screen shot of my lamed Linked** profile.