It's been about a week since I launched this year's week of no blogging / only commenting. This is hardly an exact, precise activity, and I am honored by the wide range of incoming links (the non spam variety, of course).
So according to coComment, I posted 57 comments this week, admittedly a lot were on flickr- but they count, right?
Of course no one has caught on that this is my twisted devious plot to escape coming up with something to blog for a week, right? Just run around and drop comments elsewhere. Maybe it could be a month…
So if I was a proper academic or researcher, I might have some grand conclusion to postulate here, something bullet-point worthy.
Nada.
To be honest, it is less to discover any grand theory. I recognize how powerful it is when I get a legit comment, and this is my way of giving back, and more than a spate of "nice post!" spam.
It was a strange week on many fronts, and this year I may not have been overly diligent. I pretty much started with blogs in my RSS reader, and looked for posts by my frequent commenters. Then I might peek on some sidebars and explore blogrolls for interesting sounding sites.
The curious feedback, to me, was a colleague (who shall remain nameless. linkless) who expressed a fear of commenting on my blog for worry of not being "expert" enough! C'mom, anyone who reads my drivel knows how suspect it is right? And what is it about people in this field who are afraid to put their neck out and post a comment on a stranger's web site? If out ed tech leaders have this fear, who is going to model fearless innovative action? What could be easier to do than typing in a box? If fear is that bad, make up a name!
So my premise is, if we tout the flatness of the world, then there is no "expert" hierarchy in the blogosohere. There are not exclusive levels one must try earn gain admittance to. No velvet ropes or burly guards.
At the same time, if I dust off my cobwebs, I am sure as a baby blogger I had those doubts whether my comment would be appreciated, or more likely ridiculed. But we all have some perspective, connection to add to these conversations. We don't add anything by holding back ideas.
So looking back again at the comment stream, it was a lot in my 2.0 love of flickr. And much has to do with what has emerged by the 366 photos phenomena. This started, like many things cool in edtech, with D'Arcy Norman. Last year, he undertook his own project to take a photo every day and post it to flickr. It sounds easy when you say it like that, but as you read his words, it takes a lot– but for someone interested in photography or visual communication, it pushes you to think, look at the world differently.
Anyhow, in late December, D'Arcy tweeted a message about wondering if he would take this project on in 2008. So as a typical career move I have had good luck with, I copied D'Arcy- I tweeted back, "I will if you will" And others came in with me too- so now we have a group with 36 people doing this plus a 366photos tag.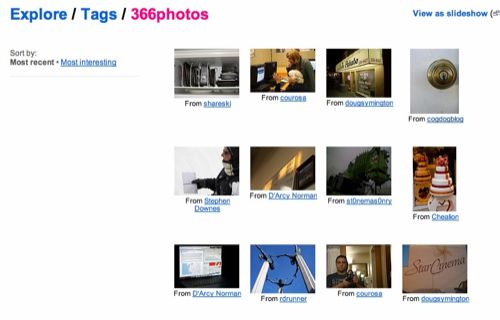 That may be small scale on social networks scale, but the fact it has happened with no real structure, direction– it is a phenomena unfolding on its own course. And its within these places I commented the most. Mostly I am intrigued as this is so organic, and people involved are so actively engaged with not just their photos, but others in the game.
Certainly the outlets and forms of commenting have busted our far beyond just a text area form field on a blog site, but it only gets powerful with more participation. Don't hold back, don't over analyze, just be there.
And this marks the end of year 3 of February No Blog Comment Only. See you next year.