So I finally have my magic card to get out of the Alltel Jail of Poor Service and Unrelenting Contracts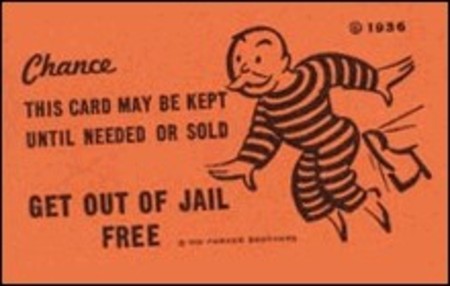 Last week I was down in Phoenix using the new UM150 USB modem they sent me. It worked fine for the first stop. Then, I had 5 disconnects in less than 2 hours, from 2 different locations. I left a message for Rick, the Executive Customer Relation Specialist who was following through – it was brief, "Hi Rick, this is Alan Levine, the guy with the new wireless modem. It worked for 2 hours and now I hve 5 disconnects in 2 hours. I want out of my contract".
In the meantime I looked at my network settings and saw a bunch of unused connection types for the card. So I deleted them. And the thing worked for 2 hours.
So right on cue, Monday morning, Rick called, and said he talked to his supervisor and said for all my trouble, they'd let me out of my contract with no charge.
I was there.
I won.
But I hesitated since the thing was working. So i said I wanted to see if it was consistent with this week's travel. After all, once out of my contract, I have to go to another carrier and start over. Maybe they are all crooks.
So tonight I came down to Phoenix. While waiting for my pizza I tried to connect. It tool 4 tries. I was disconnected twice after 5 seconds. Then I was in. Back in my hotel room, it took 3 tries to ger a connection. Then I was one for an hour. I was writing captions for flickr photos I was uploading. I went to upload and BOOM! Nothing. The damn thing had disconnected with no warning, and my photo captioning, tagging was lost.
Here's a snapshot of my log- the pink lines are all "disconnected by peer" meaning they dropped me: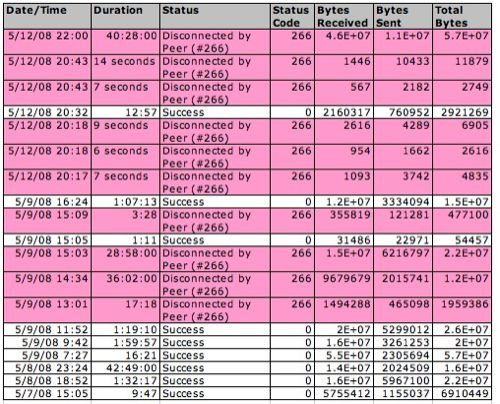 So I am ready to use the get out of jail card. I have had enough. I want to show that you can get companies to knuckle under. But it is utterly amazing the amount of effort it took to get to this point. Anytime you call the support, you will get a ceiling of support and no one there will acknowledge that it is even possible to escape. So they key is to persist until you hit this magic layer of "Executive Customer Relations" Those are the people to ask for.
I shall be free, than find another pirate ship that I will indenture myself to.
But I will revel in freeing myself from the Allhel Pirates