I have an interesting/weird presentation opportunity tomorrow, traveling all the way to Mesa, Arizona to do two sessions at the Maricopa Community Colleges Teaching & Learning with Technology Conference. It's "weird" because I worked 14 years at Maricopa, nine of those years running the conference that was the predecessor, though I must say I never got more than 250 people registered for this one. Nope, this one is all different from that oid tired cactus thingie.
And I am looking forward to seeing former colleagues, many of whom are sure I moved to Austin, or some who did not know I was gone ;-)
Anyhow, I am doing an early warning here because I am going to see if I can stretch the audience to do live broadcasts of my presentations via ustream.tv- of course, this is all hinging on the local network (I requested wired connection but am not counting). To solve the issue of the poor viewing angle from a laptop camera- who needs to see my talking head anyhow– I intend to start the stream with the camera as people enter the room, and then switch the video source to my desktop, using CamTwist. There will be the usual shout outs to twitter as well.
As a backup, I intend to record audio on my Edirol R-09, if I can remember to click the Big Dumb Red Blinking Button.
Hopefully, the streams will start 10 minutes before the scheduled times from http://ustream.tv/cogdog; with all the things to attend to, I most likely will not see much of the chat and am relying on my connected colleagues in the audience to keep me posted. So the showlist for Tuesday, lucky May 13, 2008, includes:
10:30am PDT (check local time) Being There.. in that Unevenly Distributed Future – yes it is a reprise of the first one last May at Faculty Academy and then a few times in Australia, but I've pruned some less essential pieces, added many new examples, and tossed a few new surprises in the mix.. including a mullet. Go figure. And in the most unlikely occurrence ever, I've posted the presentation early, so there will not be late night tinkering. What the heck, the presentation file is not the presentation, I've heard. If I get good audio, I may turn that into a SlideCasr.
2:00pm PDT (check local time) 50 Web 2.0 Ways to Tell a Story. I love doing this presentation, of which there is no presentation being me having about 50 Firefox tabs lined up based on the workshop/presentation first done in Hobart Australia, October 2007. I am sure I will be still trying to ride this horse long after its time, so someone please tell me when to Stick a Fork in It. I've recently added a few more to the mix, including Jaycut (a multi track web-based video editor) and Vuvox Collage (a stunning rich media presenter, unlike any other tool, still in private beta)… so if anyone is counting, I have pegged it at 57, the magic Heinz number, and a few more in the wings that may top it at 60 soon.
I'll be presenitng humbly in the shadows of keynoter Michael Wesch.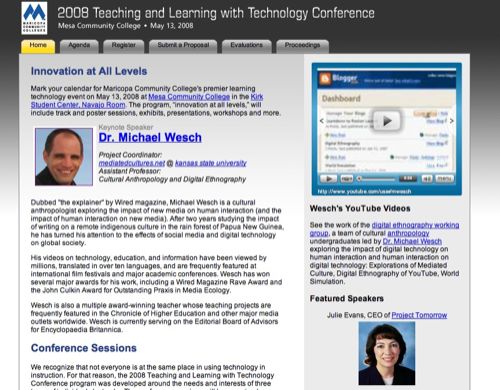 And what is fun to watch is the official conference site, and even I see a few of the registration tools I built there, and the unofficial 2.0ish one full of blgggy taggy utterzy twittery bling. Wow, what a cool template on the blog, where did they get it? So I am curious to see what happens when the 2 cross paths tomorrow.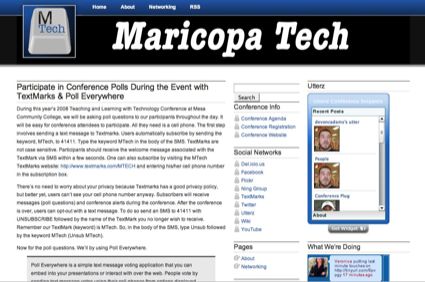 I am quite excited about all of this, and to add to the craziness, the weather forecast I just heard is predicting an "outbreak of weather" for Phoenix- rain? and I might miss snow down to 6000 feet? Amazing.