Most people who have reached the high vistas of the Twitter Life Cycle curve have at least one, if not many small stories where they got information, a contact, a resource from twitter that they would not have gotten anywhere else. Or in such a timely fashion.
So here is one more, how I long shoot tweet in the air got me technical info I needed.
The NMC web site runs in drupal (no snark today). We use the TinyMCE module to give our users, and our office staff who create a lot of the content, a visual text editor. But I have had this nibbling problem which will likely seem nothing to a drupal-ista. I have our CSS styles include classes for hyperlinks, so that adding something like class="pdf" to an href tag will insert a small file type icon:

It is as simple as
(

See

the

<a

href

=

"/pdf/virtual-learning-prize-PR.pdf"

class

=

"pdf"

>

press release

</a>

)
I have a few classes for quicktime links, word docs, rss feeds, they all look something like:
background

:

url

(

'images/pdf.gif'

)

no-repeat

;
But the problem was I would edit these in the drupal plain text editor, since I love seeing the HTML code, but if someone else in our office went to edit the content (like to fix one of my typos), when they went into the TinyMCE text editor and then saved their work, the damn class would be stripped from the source.
So I spend a lot of time re-editing our pages to get the damn icons back. I knew there was some place in the pile of the drupal module files to fix it, but never quite found it. So yesterday, in a total shot in the dark, I heaved a Twitter Hail Mary pass: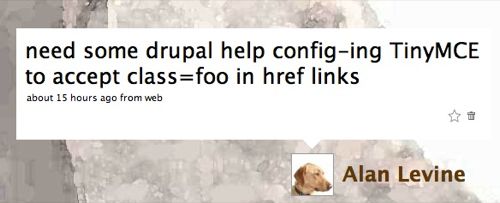 which is pretty damned obscure.
And then, in my email box this morning was an email from Michael Harris- who pointed out the part of the drupal.module code to add this, changing:
$init

[

'extended_valid_elements'

]

=

array

(

'a[href|target|name|title|onclick]'

)

;
to read:
$init

[

'extended_valid_elements'

]

=

array

(

'a[href|<strong>class</strong>|target|name|title|onclick]'

)

;
and it works! For the NMC staff accounts, I add a list of extra CSS classes to their TinyMCE profile:

and when they edit a hyperlink in the visual editor, they have a nice drop down of CSS classes they can apply:
So now they can link and edit away and not eat my classes!
So thanks twitter, thanks Michael Harris (I'd send you a foamee if I knew your twitter account).
This is by no means a unique story anymore, but it still thrills me to death when It Just Works.
But as a closing lesson, it is not just twitter that makes this possible. If I created a twitter account, and started tossing my questions, needs out into the wind, I'd be the tree falling in the woods with no one around. Twitter is the vehicle- it is that I have been here more than a year growing, following, and cultivating my network, that people hear the messages. So the network is crucial here, and we need to be talking more about the ways newbies can go about building their useful network. And a lot of it is just being in that network, participating, giving back.
Yes, I fall back on the Churchill quote: