With my recent twitter screen shots I am showing my snark for sure.
Yet, I am in no way advocating a rally for "let's bail on twitter". And to be honest, it really does not produce urine in my wheaties (as a variant of peeing in Cheerios for @fncil) when twitter goes down, out, or flying elephant. It serves as a wake uop call do to something productive ;-)
So its been more as an experiment to see how the service works to try Ping.fm than some effort to be able to spread tweets everywhere.
Ping.fm was created for the sole purpose of making it as easy as possible to share your posts with the world. Now you don't have to fumble around the web in order to post anymore, you can just post once, and be done with it.

The idea came about when making some posts to Twitter and Tumblr. The idea of posting the exact same information in two places seemed a bit tedious, so Ping.fm was born.
Once you have an account on ping.fm, you can configure it to accept your updates via the web, phone, IM (e.g. just like twitter) and it will send it to all the social networks you activate, so my messages sent via ping.fm can go to twitter, pownce, jaikui, facebook, linkedin, 14 in total.
So as an example, I used the web interface in ping.fm to compose my statuses… er.stati…. errr?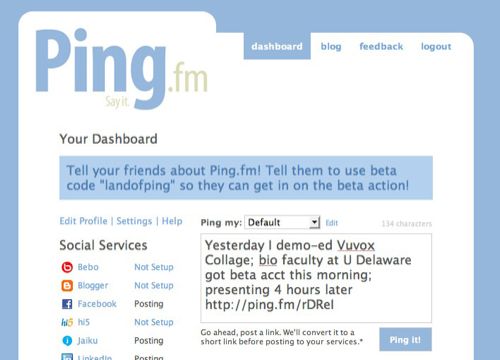 And this ended up in many places: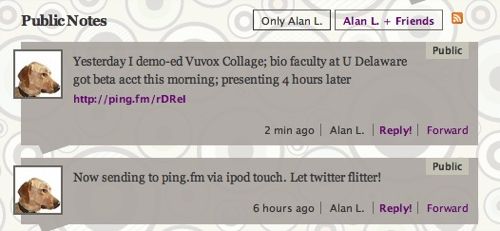 And as I also spray ping-ed around (pownce link), there is a WordPress plugin that will send a status of your blog posts out via ping,fm, essentially doing what TwitterTools does for just one little service. And there is also an iPhone/iPod Touch interface that allows access via these devices– see message sprayed from my iPod Touch (jaiku link).
Now I am not claiming, as my good colleague D'arcy semi-asserted, that this is a solution to twitters erratic state. I cannot even say I will use ping.fm on a regular basis- my primary network is twitter, yes, but at the same time, it is not realistic there will be One True Status Network to rule them all. In my little tests, ping.fm has set in place all of the input/outputs that i can use in twitter, and let me choose which services to send them. I think it is a worthy effort.
And now with a spike of interest bubbling about friendfeed; it may not even matter which service you use, if you toss it into the feed pool.