It's been almost a year since my half baked idea emerged for 50 Web 2.0 Ways to Tell a Story — I presented it 7 times, which for me, a reluctant presenter is a lot of repeats. But it is a fun show, and the highlight was getting a packed auditorium at Northern Voice 2008– I was sure everyone had my session confused with celebrity keynote. I was shaking in my cowboy boots.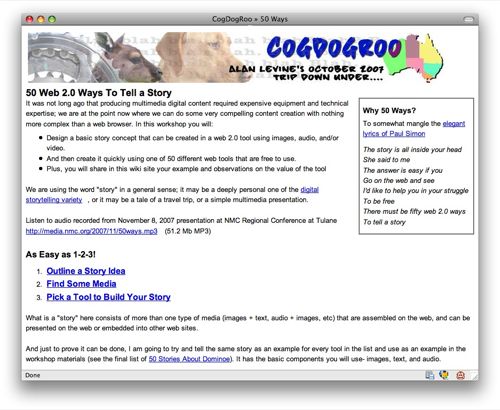 By the time of the last presentation at the University of Delaware, I had achieved the Magic Heinz Number… 57 Tools…. and since then I have added another 12 on the "to do" list (sometime when I can stomach doing the same story again) including 280 slides, flowgram, SlideRocket, dipity, gloster, and more. A few of these are in beta, and I have access, but hope they emerge soon.
Vuvox Collage has been in beta a long time (and who knows what will happen, they were bought in June by eBay). I still love that one, and put along with gloster and I think the "Scrapbook" category may be renamed "Collages".
A lot of folks keep telling me how useful the list is. And they keep asking me to recommend "best" tools. That's really not the purpose to rank or say one is better than another. Most of the presentation ones and the slideshow ones are same in functionality, and differ maybe in template or background music choices. But I worry that people get fixated on the tools and not the process.
And I am seeking more examples to list! While the site is a wiki, I dont leave it open because (a) when I did, someone munged the format; and (b) when I did, some ***hole added spam links. So its my wiki, not yours (to edit). But what I do ask is that if you or your students or your mother-in-law or your mother-in-law's dentist's accountant makes a story in one of these tools, please go to the discussion tabs and share the URL (or just comments). I am watching the RSS feeds on these and boy is my reader lonely.
Three people from my University of Delaware workshop in June provided links to stories… so i will share them.

Dora used Slide to create a story of her class trip to Spain
Brian, who teaches in the hospitality program, started an xtime on the history of hotels
And Cristina wanted to develop a presentation that would help her students understand that Calculus is just about rates of change, so she brings in real world examples (fear not the Calculus! fear not the Calculus! fear not the Calculus!)- she used One True Media to create this one.
All of these are now examples on the main Story Tools page of the workshop. You too could have such fame and recognition, just share your links in the Discussion space.
I was hoping to do this session at the Learning 2.008 conference in Shanghai this September, but the word I get is that nearly all of these sites are likely block, turning my potential workshop into "50+ Web 2.0 Ways To Tell a Story That You Cannot Access". I still may use it as an introduction to some storytelling activities, but the whole blocked web sites concept baffles the cheese out of me. I've never worked in such a place that the web was not a wide open highway.
But that's another tale, another blog post. I may just shut myself in a closet for 3 days so I can rummage through those 12 new tools.