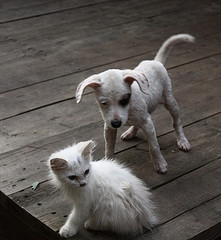 flickr cc image credit: Cats and Dogs, Living Together! by kmevans
In my photography I've had a slight passing interest this year in creating panorama images (flickr has evidence). Since discovering my little Canon SD800 has a panorama shooting mode – it presents a screen with overlap to help with aligning when taking a series of images intended for stitching– I have been doing a few here and there.
Until recently, I have been using a demo version of Autostitch software developed by Matthew Brown and David Lowe at the University of British Columbia.
Autostitchâ"¢ is the world's first fully automatic 2D image stitcher. Capable of stitching full view panoramas without any user input whatsoever, Autostitch is a great new technology for panoramic photography, VR and visualisation applications. This is the first solution to stitch any panorama completely automatically, whether 1D (horizontal) or 2D (horizontal and vertical).
I usually say its about the only compelling reason for me to boot up Windows (XP) on my MacBookPro. It does a phenomenal job of stitching, way better than the crappy Canon software that came with the camera.
But in reading the web page for Autostich, I noticed its code had been incorporated into a few other apps, so I decided to give Calico a try on the Mac side. Its pretty easy- you load a series of images, click align (let it chug a bit), and then Make.
What I can do in Calico that I cannot do in Autostitch (which is from what I can see just a front end for a command line process in Windows) is I can crop the image from preview, but better- the final image I can generate as a layered PhotoShop file in case I want to tweak, add something, etc.
I have two versions of the same panorama from images I took in the Sydney Harbour; they have slightly different color tones maybe a JPEG artifact) , but I am pretty darned happy with the Calico approach.
Update: I was just reminded by Gerry Paille that PhotoShop CS3 has a stitching tool, Under File -> Automate -> AutoMerge. It works well, seems to do less spherical correction??
And this is just one part of my fascination with Big Wide Images- a whole other post is reserved for my experiments ideas for the GigaPan — see my gpans at http://gigapan.org/viewProfile.php?userid=5381… and I plan to post quite a few more when I take the rig next month on my trip in Asia.
What ideas do you think are useful for using panorama images? Are they just a neat thing, or more?