I almost started to say something like "I Can't" but I can't do that. But I honestly know that organizational stuff (like keeping things neatly in file and making to do lists) are just practices I don't gravitate to. The inane tweet above was more a mis-placed assumption that the GTD "movement" seems to end of more focused on the process of GTD than the Things part. I have no basis to make that assertion, yet that does not stop me.
So I could give a hoot how many emails I have in my inbox. The only ones I say are the ones that fit my scroll bar, and rather than fart around with clever folders, I find 'em the search way. I never profess to say my way is better than anyone elses.
But now I offer for anyone looking for a short cut to this stuff, to join me in the NGTD movemebt, dedicates to snarking the fastidious list crossing maniacs out there. My lesson to day is on getting to Readbox Zero, that cleansed out fresh minty taste of an RSS reader with nothing pending in it.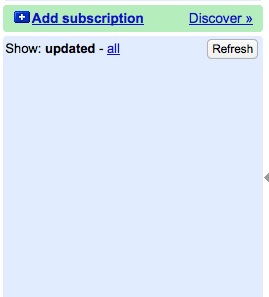 In Google Reader, you can reach this holy state by simply going to your feeds or folders of feeds, and give them the old Shift-A; mark them all read even if you've not even looked at them. Mmm, look how organized my reader was a few minutes ago.
Kum Ba Yah, Bay-bee!
Lest you think this is totally frivolous, I switch to semi-seriousness mode/ I generally peruse my reader still at least once I day. I have a whole collection of "alert" me the feeds (comments to my flickr posts, updates to our MediaWiki sites so I can tell if anyone is actualy wiki-ing besides the spammers, etc). But for the most part, I skim a few page downs worth, but inevitable, al ot unread messages accumulate way below the fold of my attention.
Now the beaty of Marking All Items Read, beyond the illusion of being organized and tidy, is that all of the content is still there. So I can still find these items by browsing or searching, they are just swept under the rug of my front page view.
And I feel so clean and shiny now.
So how do you actively go about NGTD?