I feel your fatigue. I feel mine. But I keep finding them interesting! Call me a fanboy (it's a legit word in the dictionary).
Tossing a linktribution to HeyJude (HeyJude! Hi) who has clued me into many new tools, I gave a go at Posterous:
Posterous is the dead simple way to put anything online using email. We launched in July 2008 and we've been steadily growing and adding features.

We love sharing thoughts, photos, audio, and files with our friends and family, but we didn't like how hard it was… so we made a better way.

That's posterous. We're super excited to see what happens when blogging becomes as easy as email, and we hope you enjoy posterous as much as we do.
How wild- you can set up an account without… setting up an account! So more or less, any way you can email something- text, words, pictures, movies? to post@posterous.com or SMS to their number (in the US only for now, sorry), you can blog.

So if HeyJude thinks its cool, I gotta try. Set up the account, and sent a first post via SMS. Almost instant gratification. Then I tried sending a photo form my iPhone via email.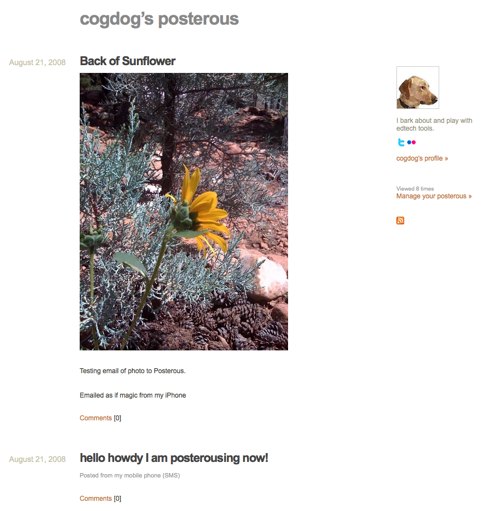 Easy again! But wait there's more! Before I sent that photo, I added my accounts for flickr and twitter to posterous, so when that flower photo went to posterous, it also went to twitter and to flickr! (you can use specific email destinations like flickr@posterous,com to cross post only to flickr, twitter@posterous.com for only twitter…).
And then I just sat down in GMail and composed a message sent to post@posterous.com to create a plain old blog-like post:
The text of my email was:
Dear Posterous,

You are a strange web site indeed. At first I thought, well, just
another status/post/friend aggregator, YASN (Yet Another Social
Network). You *look* kind if tumblr like.

But interesting, the ways to post make it so darned easy. I have tried
test messaging from my new iPhone and posting a photo from there- all
very smooth, and almost effortless. And there are the options I can
set up to re-post things posterous-ed to other services, so my photo
went to bloth flickr and twittter. Now we are getting many crossings!

And now this part, composing an old fashioned, as if it were 1987 (the
year I first did email), email to create and post to my blog… well
heck, I am sure my Mom can do this. She reads my blog (hi Mom! Be sure
to eat all your meals!) but seriously, if she were compelled, she
could blog by email. That is my ultimate litmus test of a technology
arriving, when my Mom uses it.

So bog by email, how strange and neat at the same time.

Have a nice day,

Your friend

Alan
And I bet if you did rich text email (styles, images, links) it would all come through on the Posterous publishing.
So, if this is not exactly clear, I am posting multimedia blog posts, cross posting to other services, without ever touching a blog authoring interface. I am pretty sure my Mom, whose internet activity is up to basic email, could actually manage to blog this way (so if you see a cookielady site at posterous, you know she took me up on the challenge).
Okay, so I am not sure beyond this quick romp with the tool I would use it on a regular basis. But the ease of posting content through many devices/simple methods mat be compelling. Its kind of like tumblr on speed. Imagine students using a common account to post project updates or data from the field. Or how simple could it be to create a conference social site; all you need is email, no accounts.
What do you think? Yay or Nay? Or yawn?