photo credit: Mike Disharoon
I doubt I lack company for people who grew up hooked on James Bond movies. After all, he was so suave, had cool toys, fast cars, girls in bikinis, traveled the world, license to kill! I want that job.
And I'll get heat, but there is only one genuine Bond persona for me, later ones were so plastic (excepting Daniel Craig for the newer Casino Royale). I remember as a kid even having a plastic James Bond briefcase, that opened to reveal plastic weapons. There was even a button on the top that would fire a rubber edged dart from the secret hole in the side (wow, violent toys, look what they have done to me!)
So how cool is this online exhibit from the TimesOnline:
To celebrate the centenary of Ian Fleming's birth, Times Online have created an exclusive 100 year interactive Fleming and Bond timeline. Packed with articles and photography from the Times Archive and the original reviews of Bond novels and films, it shows how closely Bond's fictional life paralleled Fleming's
It's all neat, but I am also looking at how this content is presented- this, in web format, is at the level (and maybe more), we labored in the 1990s to do in CD-ROM using software like Macromedia Director: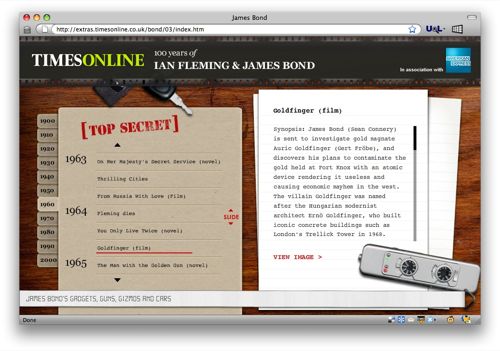 The stories that follow are full of content fit for a Bond-o-maniac, like Gadgets, Guns, and Cars (I loved the parts where "Q" would show Bond the new gadgets and try to lecture him on not destroying it).
A bit of it seems geared to sell some books (Like Miss MoneyPenny has a new diary), but the connecting of author Ian Fleming's story to the novels and movies, as well as the history woven in between, makes for fascinating content (or maybe I've been suckered into the pitch).
And… what I really dig, is the embedded map with clickable links to London locations that were either part of the stories (where Bond bought his shoes) or part of Ian Fleming's real life haunts.
This is basic stuff anyone can do today with Google MyMap, but I really don;t see a whole lot of educator use of such a great way to present information. Well, I know examples are out there, but I am looking at this entire package (rich media timeline, geolocated map, linked stories) as a demonstration of using web content.
Now, excuse me, I think I heard Jaws pull up.