How cool and fast is the net connected world? Last night I snapped a photo on my iPhone, uploaded it to flickr via MobileFotos app, and today it is part of a story on the Discover Magazine Blog: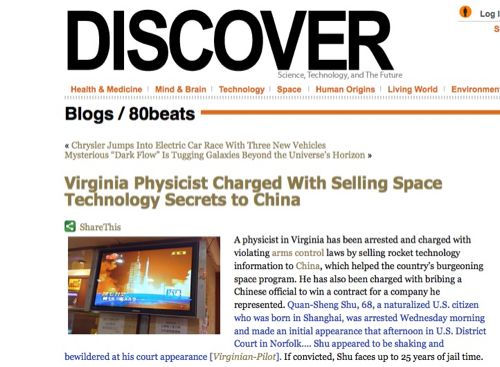 Last night, I guess I was at Mission Control in Mong Kok, Hong Kong, at a Korean restuarant:
I had gone for dinner with my friend from here, Nick Noakes and his wife, and over the table top frying of spicy beef and bacon wrapped mushrooms and ribs and thin sliced steak and prawns and… , we looked up and noticed a rocket on the TV screen.
I asked when it was lifting off, and someone said, "now!"
And sure enough, up went the rocket, and off go 3 Chinese 'nauts in space, to do some spacewalking and other stuff- see Shenzhou VII Liftoff. Great news day for China (despite snickering about the story being posted before the liftoff) and why should not more people (besides billionaires) go up in space? I wanna go, too.
Those rocket control techs at the table behind us were sure noisy ;-)