I was excited to try Animoto's new app for the iPhone that allows you to create videos from iPhone photos and their music selection.
So I loaded up 16 photos, arranged them, and selected my music. Then when I went to create the video, I keep getting told my phone is offline, despite the 5 bar wireless connectivity to my home network (I am sitting 3 feet from the router, could not get a better signal):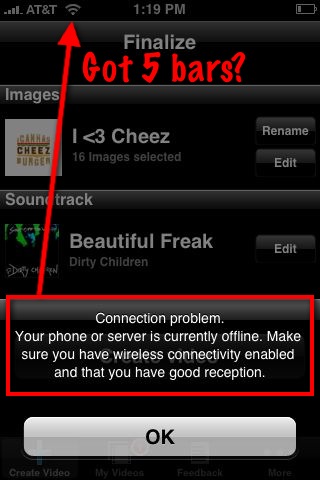 Which makes no sense, since every other app on my iPhone has no trouble getting to the net, including here my Google Reader showing in fact my previously tweeted message reflecting the situation:
I am guessing it is a bug or something that will be fixed. But for now, this puppy is not much fun. Getting ready to lift my leg on this one….