cc licensed flickr photo shared by cogdogblog and cc licensed flickr photo shared by cogdogblog
It's been a week since returning from Barcelona, where I was like 5 Yahtzees in a row luck enough to be a part of the Open EdTech 2009 summit co-organized by Universitat Oberta de Catalunya (UOC) and the New Media Consortium (NMC). I remember hearing the raves of the 2008 meeting from my colleagues that got to go.
This was actually my first trip to Europe since attending a Geology conference in Germany back in 1990. It seems patently obvious, but was slightly eye widening in a place where (a) there is visible history going back 3 or 4 times the history of the US and (b) the driving distance proximity of different speaking and culturally'historically countries makes for a different feel than we get in what can seem like ironically isolated vastness of our large country, where it takes a multiple day trip to get to a different culture.

cc licensed flickr photo shared by cogdogblog
Even for a small example is this city's monument sized honor of Christopher Columbus, being the place where he gave his "report card" to Isabella and Ferdinand after his first foray into America, while over here, he is either painted as cartoon schoolbook hero or a villainous fraud.

Below I outline more reflection/notes of my tech end of the meeting. This is less of a comprehensive recap of the trip and more of what is still simmering after a week in this fascinating city, where my neck was certainly rubberized in the visual feast of its Gothic and modern architecture, walking on cobblestone streets through twisty canyon-like streets that have visible Roman remnants, and oh, the tapas, the tapas, and the wine. And the art. And the Cathedrals. And the…

cc licensed flickr photo shared by cogdogblog
The purpose of the trip was our part at NMC in helping plan and organize the meeting for the Open EdTech 2009 summit, where 40+ international educators gathered to follow-up on the themes explored at the 2008 meeting which focused the question of What does it mean to be educated in the 21st century? (PDF).
The plan for this year was to look at what organizations need to evolve to in the future to educated these learners.
Now at probably any week of the year, there is some group, meeting, conference, online discussion, class of people sitting around trying to suss out the (caps required) Future of Education. To me, it's less than trying to be predictive or come up with some grand schema, but the process of this discussion that hopefully, elevates us a bit out of the silos of our present.
We had a heavy hitting group, of which I can see I knew less than a quarter of the attendees (most whom seemed to know each other from last year), and I always like a meeting that allows the connecting of more nodes in my/our network. We had a meeting room not best for this meeting (a long shoebox room) but made it work somehow. We had an insanely compressed scheduled. I even wondered how it could really work well.
But it did.
My piece was the usual tech end of meeting set up. I set up a wiki to be used for both information but also the group work, using our hosted Wikispaces Private Label (which works better for basic users than MediaWiki; ordinary humans really don't need to author in WikiText)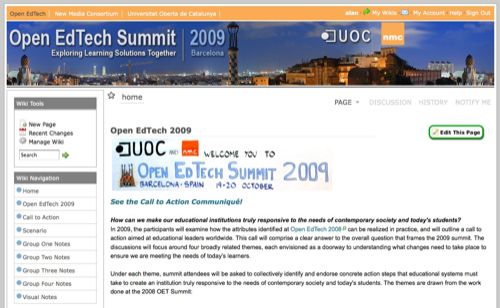 The design was up in the air, but litteraly came together a few days before I left for the trips; I;ve been using on our NMC wikis a design template crafted for us by Jo Kay that uses for the header a transparent PNG over a background image. The header images are tricky to craft since they need to wrap repeat in a horizontal manner. I found a great flickr cc image that I cropped to size in PhotoShop, and then fixed the repeat by using the offset filter, and some magic brushing, blurring to smooth the overlap (which I also hid a little with the icons on the PNG overlay). The seam is just near the top of the hill on the right.
The content there mimics (e.g. copied) the Horizon wikis including some readings tied to the 4 themes of the 2008 paper, a collection of RSS feeds displayed with a grazr widget, links tagged oet09 in delicious, a twitter stream based on #oet09 hashtag (just use the basic Wikispace RSS display), a place to display tagged photos, and a custom Google search for a set of open education sites.
These are all everyday project tools I use, but typically we see maybe 10-15% of people in these types of projects really contribute much by tagging, etc. That's another whinging blog post.
The meeting was set up with a brief opening and context setting, and then outlining of a basic scenario (a brand new learning organization was chartered by a fictitious country) our groups would address via 4 themes
The real use of the wiki was a place for our discussion groups to post their brainstorming work; we had groups set up with a set of questions for each of the four themes (see example) to create a future institution that would meet the needs of 21st century learners.

cc licensed flickr photo shared by cogdogblog
The groups were picked with the input of our UOC colleagues along the lines of a "wedding dinner table selection" for mix and compatibility, and sent to 4 rooms. The plan was to have all 4 grops move through all four topics in… 2 hours, leaving 30 minutes for each theme. I thought that was crazily over ambitious, but time was a constraint. Each group had a facilitator (I was one) who was mainly the time whip to move them along. We also got a "wiki-ist" form each group to record the group discussions into the wiki.
So here is a clue- if you are ever playing the edtech playground pick up game involving a wiki, be sure to pick Gardner Campbell to be on your team! He not only gets notes in the wiki, but comprehensive analytical full sentences! Yes, Gardner Writes.
The other twist we tried, that worked even better than I thought, was that each group had a "Tweetist" someone who would do live reporting via twitter with the #oet09 hashtag. Each room had a PC with a projector, not to show the wiki, but the twitter activity, so groups could see what was going on in other rooms.

cc licensed flickr photo shared by cogdogblog
I was going to use the advanced twitter search; I thought it automatically updated the tweets, but saw the day before that it requires refresh clicks. I set up VisibleTweets, which is pretty and works nice for a conference lobby, but is not as effective in seeing the most recent tweets as they come in. Just by accident when we were setting up the computers the day before, Lev Gonick asked if we were using TweetGrid— which I had never heard of, but thought ti might work. It allows you to set up a grid of multiple tweet Dashboards, but what it does is refresh itself. I ended up putting all 3 as tabs on the machines we were using. The functionality of TweetGrid was best, but it is small text and pretty unreadable on a projected screen, even in a small group.
I also remembered to set up a TwapperKeeper to archive the tweets, of which there were/are nearly 500, including a good stream from people watching from outside. I like that TwapperKeeper allows me to grab the tweet data as CSV. This process really worked well for the groups, even some that got into trash talking. Then there were gems like Carlos Miranda multiple tweeting in 3 languages!

cc licensed flickr photo shared by cogdogblog
So we managed to get through all the discussions by lunch time (which in Spain is an extended activity at a relaxed pace I got to like, not the 45 minute American cram a sandwich over a laptop).
The afternoon had us gather for report outs, pulling out of each group not the summaries, but what were actionable items- this was all summarized artistically in visual facilitation style (see the visual meeting notes) by my NMC colleague Rachel Smith. The room was mesmerized, with reactions like Ismael's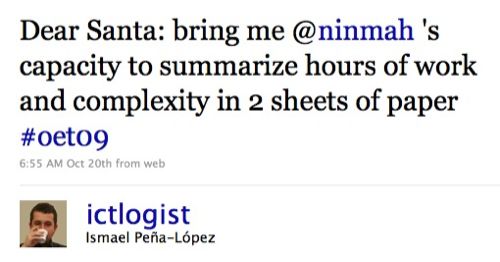 This resulted in about 40 some action steps, and what the group was charged with is voting to pick the top 5 or so to be discussed in the final report. We used a low tech Delphi method we've done in a lot of meetings; each person gets ten color dots, that they can allocate on the charts, spreading all 10 on multiple votes, or piling more on ones they feel strongly about.

cc licensed flickr photo shared by cogdogblog
By the end, there is some quick work to find the cut off point, and then there is open group discussion to add/frame the final list of items.

cc licensed flickr photo shared by newmediaconsortium
This is summarized in the Call to Action "communique" issued the day after the meeting (more fully explained in the Call)
We must encourage the reuse and remixing of rich media.
We must embrace the full promise of mobile devices as learning platforms.
We must award credentials based on learning outcomes.
We must enable a culture of sharing.
We must take care that open resources include the context that will enable their use and understanding.
I'm sure people can jump in and throw pot shots at the list; what is here now is merely the synthesis of one meeting's one day discussion. All of the meeting content, notes, wikis, tweets, are part of the raw material a writer will use to compile a report of the 2009 meetings.
Most intense meetings like this end with people dispersing, some to dinners and bars, some to their laptops in hotel rooms, but we had a truly amazing wrap up with a group visit to Cook and Taste, a dining experience where they teach us, and have us make our meal.

cc licensed flickr photo shared by cogdogblog

cc licensed flickr photo shared by cogdogblog
Many of us have had the "binding" type group activities, but the joy, camaraderie, and community feeling in this night's experience went beyond any I have done before (well I did like the time my office at Maricopa played laser tag).

cc licensed flickr photo shared by cogdogblog
The paella we enjoyed was a fitting metaphor for the time in Barcelona- a rich, tasty mixture indeed.
There are things I 'm getting to tired to mention, the chance to run on the beach, the visits to the Gaudi architecture, the light, the Picasso Museum, the dwarfing Gothic cathedrals, an inspiring presentation on mobile tech in Africa by Jessica Colaçao, the chance to get to meet fellow edtechs like Ismael Peña-López.
And really, the folks at UOC are just tremendous, especially our dynamic duo of Evas– and really, there is a lot that the education world needs to see at what a rather youthful organizations such as UOC has achieved, 45,000 students, all online, an organizational embracing of open education and open technology (they are soon to release their own developed open source LMS).
Barcelona… I'm ready for more.

cc licensed flickr photo shared by cogdogblog