cc licensed flickr photo shared by cogdogblog
My mom is visiting me for the next 2 weeks. This morning, she said, "Can you explain this 'twitter' thing to me over lunch?'.
I could not resist rushing out to tweet it ;-)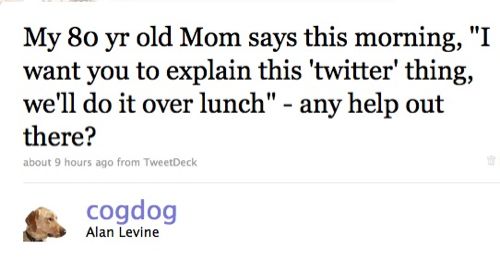 which got some interesting responses, including one from Dean Shareski, who asked me to record the conversation.
So at lunch time, I sent out a repeat request, and first sat Mom down at the computer to watch the Common Craft Twitter in Plain English video

cc licensed flickr photo shared by cogdogblog
and then turned on the recorder to capture our conversation (it was great because tweets were coming in as we were talking)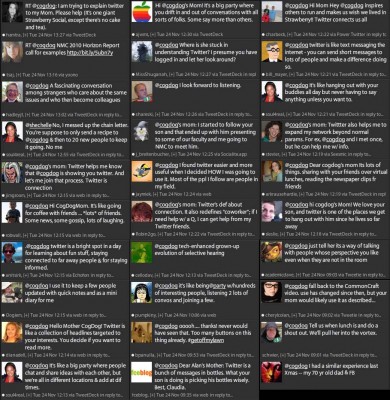 Here's what twitter can accumulate for the related tweets:
http://search.twitter.com/search?ands=mom&ref=cogdog
Here is our conversation
Telling Mom About Twitter (15.8 Mb mp3)
The post "Twitter in Mom English" was originally zapped with 10,000 volts and declared "It's ALIVE" by Dr. Frankenstein at CogDogBlog (http://cogdogblog.com/2009/11/twitter-mom/) on November 24, 2009.