cc licensed ( BY NC SD ) flickr photo shared by sgrah
I've had mixed success at keeping up with geotagging my trip photos, usually when chided by someone like @windsordi ;-) Frankly, the technology seems 90% there, but for me, has always required just that smidgen of extra effort that makes it a barrier to be more consistent (I see the barrier in the mirror).
In a few minutes, someone will comment with their perfect gps tagging tool. I believe you. Its baked into a few cameras, yes, and of course mobiles. I tried last year to use a photo tracker, but I would forget to turn it on, or found the process if exporting the data files and syncing with photos in Aperture cumbersome.
I got a million excuses. Few valid.
The map tool in Aperture defies me. Maybe I have not given it a fair shake. But placing my photos on a map feels super tedious.
First of all, my strategy needs to be that my geo data stays with the photo in Aperture, where I also title, tag, and write the captions for my photos (I can haz and uze my metadata)– all of this gets exported to flickr using the Connected Flow Exporter, but I keep it myself. This also works for my photoblog, where I can post all of the meta data simply by uploading the photo to the WordPress blog (here's how).
I am trying a new strategy that will fall part of perfect, but relies on the automatic geotagging done via my iPhone. The ideas is every place I go I wish to map, I do a throw away pix on the iPhone of me pointing at the ground.
In Aperture, I can just lift the meta data for the location (be sure to check its box the first time):
I then just multiple select the other photos taken from the same location (okay it is not ground precise, but neither is the iPhone GPS, sue me) (no, sue Apple). I then use the "Stamp" option to put the location metadata onto all of those images: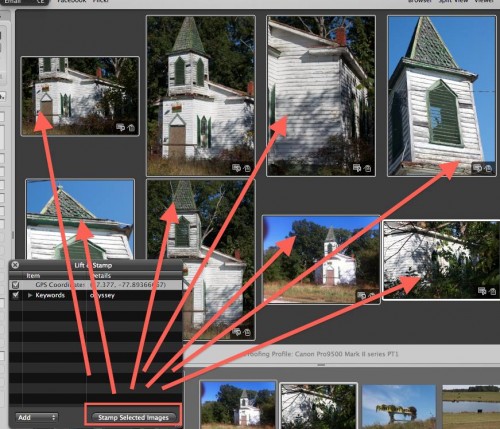 And this all goes with the image when uploaded to flickr.
I cant say I use the flickr map much. It feels awkward. If I zoom out for the Canada and North American, I cannot seem to get the stuff mapped, until I zoom in to some level, e.g. for photos along my route west to east across Canada:
I've likely geotagged less then half of my trip photos, precisely because it ought to be seamless, and not require such duct tape.
I'm going to be looking at a pocket camera in the future that has GPS built in.
Okay, tell me how wrong I am about making this easy or hard. Do you geo tag stuff that does not get it automatically?