Just wanna stake my claim…
Look for big announcement soon about CogDogx cause just like the 'i" prefix of a few years ago, an "x" suffix is the new shnizzle

— Alan Levine (@cogdog) December 30, 2011
Of course, the "big announcement" is 404, because I was just playing. But the "x" factor is going to be spreading widely, witness MBSx
The funny thing about twitter is how hard it is to find your own stuff– I knew I had snarked this a while back, but had little hope from twitter itself I could find it (oh twitter, index thyself, willya?).
So I knew I had something of a record in my rowkeeper archive, but what I found was someone retweeting me back in December- this at least got me a chunk of text

which gives me a few useful shards – none of them found on twitter, but whoah, I had completely forgotten I had made an account on Grabeeter — who is apparetnly doing what twitter ought to be doing!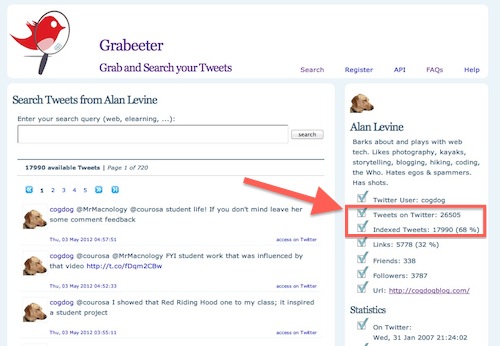 With me forgetting that! Grabeeter has indexed 68% of my twitter spewing. This link is now sitting on my toolbar, because I can barely remember what I tweeted for lunch. And even more, there is an API for tapping into box.
More proof- I am not tweeting much about lunch
And while this post was started with some Snarkx in mind, it ended up with me futzing around with a forgotten tool. Is this some sort of localized serendipity?