Thanks to a tweet from Doug Belshaw I found a nifty service for moving photos between different photo sharing sites- while functionally useful, pixelpipe or http://pi.pe is an interesting model to look at data transfer.
https://twitter.com/dajbelshaw/status/231787637093064705
You authenticate with the service via either Facebook or a Google account (I hear you cringing), and then in pi.pe you authenticate again the photo services you use, in my case, I enabled flickr, Instragram, Picasa, and 500px (which I never have used)
It's a straight forward process, you pick the source (I started with Instagram), choose the images you want to copy (I chose all 60 it provided), and lastly, choose the destination (I chose Picasa, which I giess is Google Plus Photos). I did not clock how long it took, but I got an email notification when it was done, and all of those Istragrams are now in my Google+ space (If I set it up to Google Drive, I guess I could download them). Of course Google+ makes the ugliest URLs since … well you name it, but my collection of Intsagram images are over in the new space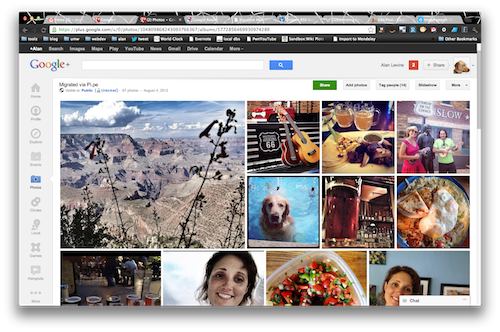 (Equally baffling is why Google has no easy outward sharing options, no permalink or embed) (Oh shating in Google+ means sharing WITH Google+) (-1).
I also gave a try to moving some flickr photos to 500x, but I can only do 10 at a time on a free 500px account and the pi.pe selection tools got squirrely as I scrolled down in a flickr set (it selected them all), but it worked cleanly om my seldom-used account: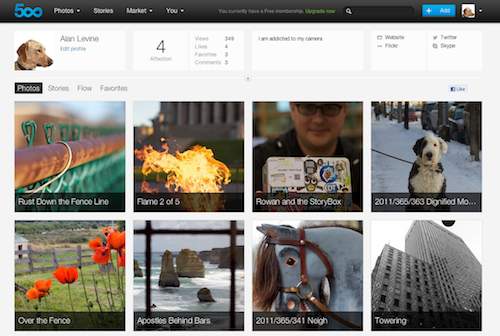 Hmmm, 500px is kind of elegant! I might have to ponder how I might use it – I like the Stories feature…
But what I like here is how this service can easily move media from site to site, using open APIs and authentication schemes. What of other media was this easily moved around?