cc licensed ( BY NC SD ) flickr photo shared by Leonard John Matthews
I stumbled in my usual accidental way to a technology that makes your blog be able to be heard as audio via its RSS feed, via text to speech service Vocalyze. I was actually googling around for code to help us autodiscover blog feeds from a web site URL; I have no idea how Vocalyze came up as a result, but that happens…
The best way I can describe it is like an RSS Reader that you use to have the content read back to you. On creating basic account, you get a set of preset feeds, but I was able to add my blog feed as a "favorite"- and you then can make playlists the mix the content form different sources.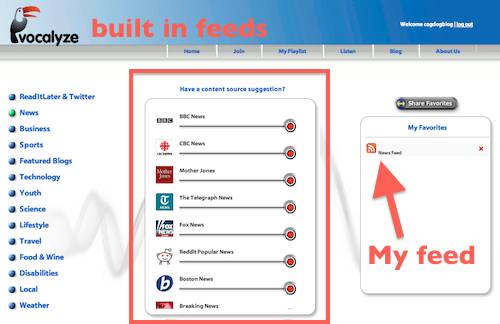 The aim seems to be at people who want to be able to listen to blogs read to them as they drive or commute, but it does not take much to see this as a decent accessibility feature. There is a WordPress Widget that is intended to work with Vocalyze on your blog, but to be honest, all it does is put a link on your sidebar (I expected maybe an embedded widget), the link leads to a URL that loads your blog feed as a ready to listen player: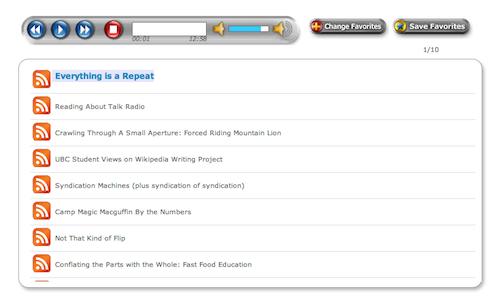 There's also a mobile app:
Here is a sample of my most recent post (until this one is published) where I lambast Hollywood
It does not take to much to parse the URL that works with this view http://www.vocalyze.com/web/share.php?rss_link=http://cogdogblog.com/feed/&domain=
Sample of Volcalyze Reading this Blog
It's actually pretty decent, free, and rather easy to integrate since it runs off of RSS (oh yeah, that DEAD technology).
My blog talks, how about yours?