One of the most frustrating aspects of Apple iDevices is the complete obscuration of the file system. We Have Been Judged Not Worthy of Having Access, in the name of ease of use. I'm find with this is the primary mode, but I know for a fact that within my decide is a file system. There is no reason to justify locking an advanced user out of access to their own files.
This came up the other day when I was listening to Bryan Jackson's regular ds106 broadcast from his 12th grade philosophy class- one group of students was frustrated at not being able to get their recorded memos off a shared device, it being too large to email. And running it through iTune presents its out suite of synch issues.
I as driving at this time and could not recall the app I have used to get files from the device.
I just ran into a similar situation, for a different reason. I am staying this weekend at my sister's house in Baltim0re- she is away on a sailing adventure, so her high speed internet is turned off. I rely on Verizon MIfi but the cell signal here is awful and my connection speed is 2 notches above dialup.
I have some recordings I made today from visiting my aunts using Griffin iTalk on the iPhone- they are 20- 130 Mb in size, and unwieldy to email or send to my dropbox.
But yes, I recall, I have a copy of Phone Disk Macroformat' sap for being able to mount your iPhone as a drive (It is discontinued in favor of their new, not free iExplorer app, but you can still get a copy of the free Phone Disk listed under "Discontinued Apps" at the bottom the downloads page.
Phonedisk gives you access to the apps on your phone that have files associated with them- each app is considered a different "drive" When you have an iDevice connected to your Mac, Phone Disk mounts by default the media drive, where your pictures and videos reside. Vis the Phone Disk menu you can select a different "Connection Root", one of the other apps, so I am able to select "iTalk"
(I am excited to see I can access Cinemgram, so I can get my animated GIFs without emailing them to myself)
When I do this, from my drives on the left of my finder, I have full access to all of thre audio stored in iTalk, and I can copy them in seconds to my Mac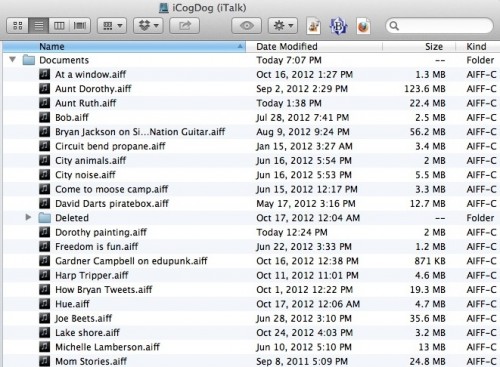 And WOWZA, there are all my audio files (and a bunch more I thought were deleted).
This is way easier than fooling around in iTunes, and the usual way I end up doing with photos- emailing it to myself.
As far as I can see, this discontinued free app is a nugget of gold.
What I found in poking around:
The audio files from the Memo app reside in the default Media mount point, inside a Recordings Folder
Not all apps are accessible via this tool .I have no idea what decides this, it must be something in the way the apps are written.
The Cinemagram mount point has gobs of video file- the original .mov and the one used for the generation of the final GIF; it also creates a mask as a JPG. but there are no .gif files storied here- the must be generated on the server.
Some of these apps have a lot of residual media files in them. Or maybe I am not cleaning them up enough?
And Apple, c'mon, give us access to OUR files on OUR devices we paid for. There is no reason to lock us out. None.
They are our files.