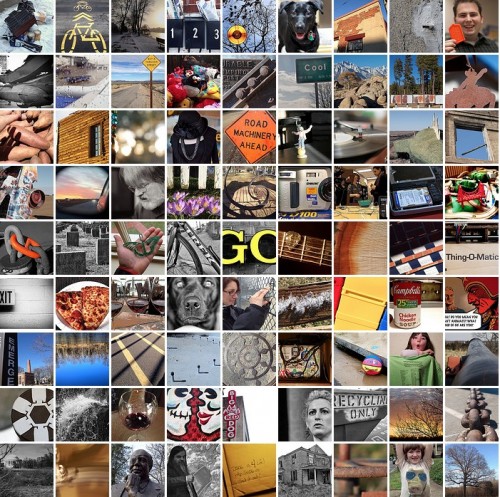 This year marks the fifth I have run my own "daily photo" project (2011 , 2010 , 2009 , 2008), going back to that first year when D'Arcy Norman had invited others to join along with him.
The act of focusing time every day, for over these 5 years, has very much helped me improve my photography by the simple act of doing it every day, trying new things, and reflecting on it. All three of those are essential. I have progressed in that time through 3 DSLRs, one compact digital camera, maybe 3 iphones. But that's just gear.
I got sloppy or busy or inconsistent this year. I sat down last night while watching a movie and tried to fill in some gaps, I got up to day 110… and asked myself, what does it matter if I have 366 or not? Actually, I have an all time low for this year, I will end up with 237 for this year, a 64% completion rate.
That grade would be a D (in the USA, Giulia has told me Canada has a different socialized grade scale ;-)
Did I fail?
Hardly. I probably took posted as many photos as years past… Hmm lets actually look before asserting… 4459 in 2012 and 6051 in 2011. But in 2011 I was off most of the year traveling.
Meh, who cares about excuses?
I firmly believe in the power and impact of doing daily creative activities, it is the impetutus behind my devotion to the ds106 Daily Create and before that the Daily Shoot (why oh why did they kill their archive of assignments? someone is paying for a domain).
It resonates with my current Read It Much Later Than Everyone Else approach of Steven Johnson's Where Good Ideas Come From – it is totally about the adjacent possible:
… innovative environments are better at helping their inhabitants explore the adjacent possible, because they expose a wide and diverse sample of spare parts– mechanical or conceptual — and they encourage novel ways of recombining these parts.
So doing regular bits of photography on their own is good (my un data-supported assertion). Sharing it online creates more potential for rubbing adjacently, and commenting, being part of a group (we have 885 current members there and almost 100,000 photos shared to the pool)? More adjacency.
But by all means, design your own approach to this, one that satisfies and rewards and challenges, not some over hanging requirement or rule set.
I am not fretting over not getting a perfect 366 set of photos. That is not the point. But I will rewind, and be there again in 2013. Want to join? There is only one rule, you [try to] post one photo a day to the 365photos flickr group.
You do not have to be serious

cc licensed ( BY ) flickr photo shared by cogdogblog
You won't get any certificates

cc licensed ( BY ) flickr photo shared by cogdogblog
You might get gifts from wise strangers.

cc licensed ( BY ) flickr photo shared by cogdogblog
You might want to shout it out for others.

cc licensed ( BY ) flickr photo shared by cogdogblog
You might just have fun.

cc licensed ( BY ) flickr photo shared by cogdogblog
What are you waiting for? Just

cc licensed ( BY ) flickr photo shared by cogdogblog
(all images here from my less than complete set of 2012/366 photos)