I get tired of those emails form people asking to blog about their product, or to include their infographic, or to buy ad space (for the latter I sometimes reply that my starting price is $10,000 per url per month, they usually do not reply).
The best are people who gush on how they love this blog, but they somehow miss this front page key warning: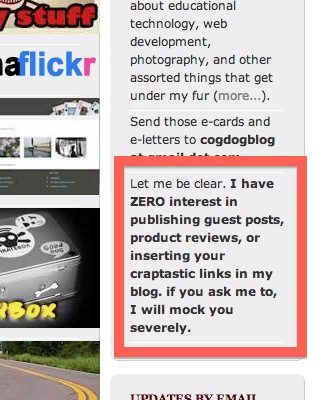 Lately though, it's not even worth my time bothering with a reply. That is my time. I would like to assume that a non reply is a message, "I am not interested."
Apparently not.
Some days ago I sent you my proposal for blog post deal but may be due to busy in other works or some other reason you did not replied me on blog post deal at $30.

So i am offer you again if you want then we can continue our negotiation. And this time i am sure we will done deal successfully.

You can view our article sample at here: http://www.simplybudgeted.com/2012/09/all-about-cisco-ccie-rs-certification/

Let me about your reply
This one I don't even need to mock. It comes self-mocked.
Now I know my spelling is bad, but this message is almost un-intelliglble, and if this is your best foot forward, you've got a long way to go in this blogging business.
Of course, what do I know.
I'm not getting $30 per post.
Who's next? Who wants to step past the sign?

cc licensed ( BY NC ND ) flickr photo shared by obscene_pickle