There is room on the internet for everything not on the internet.
My sister emailed a link to a site with a scanned copy of the brochure for a 1973 Ford Maverick.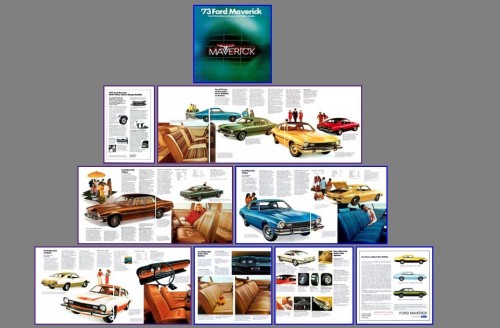 So what?
This was the car I drove out to Arizona when I moved there in 1987 with my dog Dominoe, flipping the odometer in Albuquerque, the one that did a few trips to Bishop, California for my Geology field work. So nostalgic.
I got $350 trade-in on it in 1989 towards a Chevy s-10 pickup. I've seen one old Maverick tooling round Payson, AZ.
For no real compelling reason, I decided to meld my own, old green Maverick Grabber into one of the pages from the ad, using every photo of it I could find in my flickr stream.
There might be a 1970s theme style assignment here worth putting into the ds106 assignment bank, but for now, it's purely my own nostalgia.
This was the car whose 1980s photo in Death Valley found its way onto a German band's CD cover, all via that expansive internet. Alas the band is gone, their web site now used for some travel agency. Such a fluid fickle thing that web, someone out there ought to maintain it.
You. And I. Enough surfers, likers, curators… need more web makers. Always.