Until this past weekend, my previous travel trip was way back in June. It's been so nice being home for a long stretch… so much I pinned together a five week travel trip starting Sunday.
Remind me to ask myself what I was thinking? This is roughly the plan, i started fiddling with Google maps to make a detailed one, and got bored.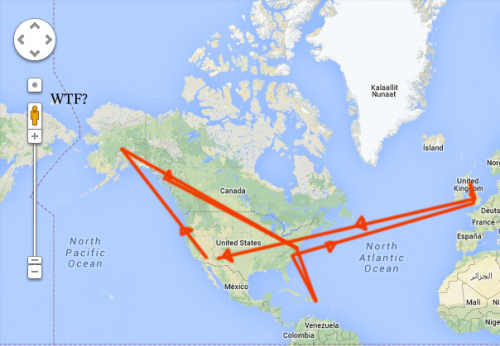 So here it goes…
Saturday Oct 5 Drive to Phoenix, visit and leave Red Dog in the care of Donna Gaudet.
Sunday Oct 6 Fly to Fairbanks, Alaska- my first trip to that tiny state. Thanks to Chris Lott for inviting me to speak at the University of Alaska Fairbanks Tech Fest, on… what else? "The ds106 Files: Outbreaks of Infectious and Open Acts of Creativity". There are some other talks, panels lined up, but I get a few days on the front end to find a Moose.
Saturday Oct 12 (technically Friday) a long red eye flight to Washington DC. I will rent a car and drive to visit my sister and her family one night, and return the next day.
Sunday Oct 13 Drive to Fredericksburg with Audrey Watters and Kin Lane for the Minding the Future Conference, where I am a humble invited guess with Audrey, Kin, plus David Wiley and Jon Udell (Oct 14) and OpenVA (Oct 15). I will head to Richmond with Gardner Campbell
Wednesday Oct 16 fly to San Juan Puerto Rico to participate in a colloquium with Gardner Campbell and Jim Groom planned by Antonio Vantaggiato, then attend the TEDx event there Antonio is running; Giulia Forsythe i on the agenda too.
Sunday Oct 20 Return with and hang out with Gardner in Richmond
Wednesday Oct 23 Fly to London to attend MozFest Oct 24-28
Oct 28-Nov 8 Here';s where the details fuzz up, plan to visit a bunch of UK peeps, Mariana Funes, David Kernohan (and hopefully Martin Weller), Jonathan Worth, Josie Fraser, Helen Keegan, and maybe up to Edinburgh to code jam with Martin Hawksey and Glasgow maybe to see John Johnston. And likely more folks. England is full of people I want to visit!
Nov 8 Return to Phoenix, and try an get a good night's sleep ;-)
Nov 9 Pick up David Kernohan and Viv Rolfe who are flying into Phoenix after Open Ed and want to chill a few days in Strawberry.
MADNESS!
Even more mad, my plan is to roll with a single carry on bag. Is it possible?