Here comes the excuse about not blogging…
I've not written much here about the Networked Narratives course I am co-teaching with Mia Zamora at Kean University. That might be because each week's announcement is a long post, plus there are weekly event pages to assemble, like for this month's "virtual bus" tours, not to mentione being in a hangout for class on Wednesday's and running another hangout during thw week, and keeping the Daily Digital Alechemies filled…
It's been so utterly fantastic to be teaching again.
We are pretty much on target for the "spine" we set up for the course, making each month a different mode of activity. January was getting set up, thinking about "digital alchemy", February was a series of 4 weekly Studio visit hangouts with narrative practitioners, and this month…
a bus.
So yes, we have weekly hangout visits, but the shift is from February ones with experts to the ones in March with peers… around the world. Each one is set up differently, with some different "pre-boarding" activities, or asynchronous media sharing or doing something in a collaborative space, with hangout at the end of the week connecting Kean students with peers elsewhere in the world.
We were partly inspired (and we also borrowed from) an online workshop on Inclusive Globally Networked Learning from the 2016 DigPed Workshop with Maha Bali, Kate Bowles, and Paul Prinsloo, who teach respectively in Egypt, Australia, and South Africa.
The part we borrowed was where they asked people to add to an open Google Doc a response to "What kinds of images, names, people, issues come quickly to mind about the places we're from?". We've been trying that with a bit of a second layer for the places we visit.
We ask our students in New Jersey, to share what they know of a country from their own experience, news, pop culture. What is the stuff about a far away place they carry around with them. The additional part is to ask them to now use the internet, and find out more specific information what life is like in the city we are virtually visit (and we ask them to do the same for say, New Jersey) (there was a bit of loose driving as our students do not necessarily identify with Newark New jersey being their city, not always New York City which so many in the world know, so we stayed with the locale being "New Jersey").
So it's both to learn about another place, but also, to hear in return what people in the other place know of where you live, and, what the internet says of that place.
That said, it has not exactly played out like that, but as I hope to conclude below, it's really the conversation we have that matters, not these activities.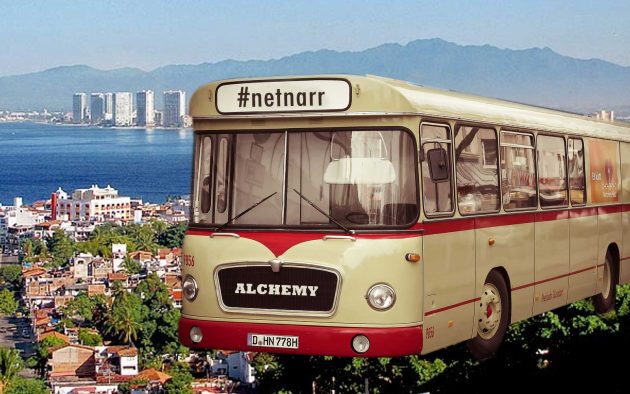 Our first stop was Puerto Vallarta, Mexico where I had asked a colleague I got to know from the UDG Agora project, professor of Tourism Laura Aguilar. She had four of her students present, and since the timing worked out that we, we ran the New Jersey side during our class. We had set up the pre-boarding activity to share in an open Google Drive folder some photos related to food habits.
Thank you so much @MiaZamoraPhD @cogdog & students of #netnarr ? pic.twitter.com/x9LDtP5mCW

— Turismo UdeG ? (@TurismoUdeG) March 2, 2017
A screenshot gif of #netnarr virtual bus tour to Puerto Vallarta… home of good friends @TurismoUdeG and chocolate! pic.twitter.com/Btw5vnsWzx

— Alan Levine ? (@cogdog) March 2, 2017
This was a deliberate choice to talk directly to people from Mexico given the terrible political treatment of that country in American politics. And our students did ask questions to their Mexican counterparts about how it felt to hear what comes from America. As we noted, their response was very respectful given what it must feel like.
The standout moment for me was when asked about the border wall, Alondra said a statement that still resonates:
Favorite moment today in #netnarr virtual visit to Mexico– when asked about border walls Alondra said "The first border is in your mind"

— Alan Levine ? (@cogdog) March 2, 2017
But the highlight moment was totally unplanned. Someone in our class noted how bright the light was coming in the window of Laura's office and asked to show us out the window. I think it was Alondra there who picked up Laura's iPad, and walked down the hall with a look of eager determination, and walked out on the veranda to show us the campus at University of Guadalajara in Puerto Vallarta. Then our class was turning the laptop out the window to show the view of Kean (heck, I had not seen that), and I was even taking them out on my deck to show the view from Strawberry, AZ.
It was so simple, yet so electric.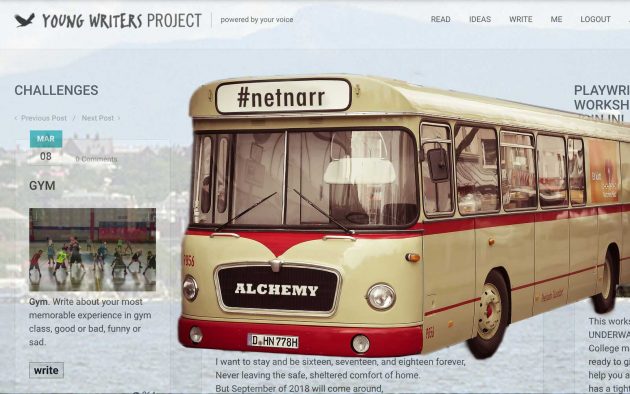 The second bus tour was a bit different, and almost rather than a physical place, we inhabited the web site of the Young Writers Project, which is based in Vermont, but is a home for creative writing for teens around the world. Our host, Geoffrey Gevalt, set up a special part of the site just for our group — we had all the Kean students make accounts on the YWP site.
Rather than us explaining it, we asked students to explore and figure it out themselves. We did a portion of this in class, and our students did more than click links, they were digging deep, reading poetry, and writing comments. And later in the week (now) they are posting on the YWP site too. This was was not in our expectations for the bus tour, that we would essentially spend time immersed on another web site.
For the place sharing, (after Geoff said the questions I listed above sounded "a bit bookish") we decided to share about where we live with audio. We asked each person to share three morning sounds that represent their starting at home (getting ready). the transition to school/work (e.g. transportation), and a third that captures some of the ambient sounds of school/work.
The bus ride itself provided again the unexpected and wonderful… because it was not tightly planned. We heard from two YWP writers who took a break from home schooling (or skiing) to share there experience; a third one (Astrobot in YWP) actually was listening in and chatting while she was in school (with her teacher's permission).
And one of our students, Laura, is a teacher herself, and she tuned in from rahway with a room full of excited 6th grade writers.
Ride the GIF bus! A few frames from the #netnarr virtual bus trip to @ywpvt pic.twitter.com/aQ7DZI4b8m

— Alan Levine ? (@cogdog) March 21, 2017
@netnarr Geofrrey "As writers we worry about being judged." I completely agree #netnarr bus stop 2

— Anna Bella (@writeannabella) March 17, 2017
Thank you again @ywpvt @cogdog @MiaZamoraPhD @wanderer_920 for the wonderful conversation today ?@netnarr

— hailey (@stryii) March 17, 2017
thanks back! We passed along your words of praise to authors of works you highlighted!

— YoungWritersProject (@ywpvt) March 17, 2017
The surprise part came from the discussion about both Isabella and Adelle sharing about meeting other writers at a YWP open mic night. It was interesting to hear about what the process if saying their poetry out loud, in public, meant for their writing. And this lead to a request that they read one of their poems for us– both agreed, and it was so moving.
Even Astrobot, who could not speak because there was a quiz going on in her class, slipped her poem in the chat, and Mia's son Jude (who is an active class participant) read her poem for us.
ONE WORLD
Is it really bad
The color of one's skin?
The way they worship
Speak
Or the place they call their home?
There are different cultures
Ways to see the world
And
Although different
They are at their roots
Much the same
From human
To human
The same species
So why kill
For these differences?
Why discriminate?
Why hate?
These differences
They make us beautiful
Make us proud
Proud to be ourselves
This united human race
The bus rides in repeat circles
And after the bus tour, Geoff has set up Laura and her Rahway students with their own YWP community web site. Fantaassssstic.
I was moved by the challenging topics and powerful responses by the YWP writers; I reached back to find some examples of writing my Mom saved from me in 6th grade and 8th grade, and while nostalgic, it seemed so much more naive.
Found my cringeworthy writing from 6th & 8th grade, posted to @ywpvt w/ audio readings https://t.co/AKSMqf6QXS #netnarr

— Alan Levine ? (@cogdog) March 20, 2017
And it lead Mia and I to plan a spoken poetry session with our students this week.
What we are doing is hardly novel or revolutionary, but is striking me, how effective it can be to get people together who do not know each other, from other parts of the world, for an agenda-less and presentation-less conversation. It's a lesson learned from the Virtually Connecting experience. That maybe just by talking to others, elsewhere, we can do better for understanding than what the buzz of social media or the burn of mainstream media provides.
The next two bus tours, to Australia with Kate Bowles this week and to American University Cairo next (with Maha Bali, Hoda Mostafa, and Sherif Osman) have a connected theme (it happened on it's own) of the stories of student experience on campus…. or as Kate eloquently described it
I'm thinking: would it be interesting to ask students to photograph an image of a place on campus where something meaningful has happened for them, to them? A place of memory or resonance, for any reason.

As an example, I have a friend whose dad came to her graduation, and then after he died she felt she could always remember where she saw him sitting on a wall after her graduation ceremony. So this is still about spaces and places, but it's about recognising that we all personalise spaces that we frequent because we have personal memories.
We are experimenting with before the hangouts, have the students from each place look at the web sites of the others to find out the way the institution describes student life, so again, trying to balance what the web says about a place with what the students there share.
The planning for this is rather loose (an understatement) with a few emails or DMs for logistics, and an idea for the activity that unrolls a few days before we publish it.
Loose planning is different from under planning; and it takes me back to one of the first lessons I got in this game, as a young instructional technologist at the Maricopa Community Colleges. I was in charge of planning the large year end faculty development retreat our office ran and was literally sick with nerves about planning the activities (asking some 150 people to spend a day doing stuff). My mentor, then Vice Chancellor of Academic Affairs Alfredo de los Santos, told me that all I needed to do was get people in a room with something meaningful to do– that they would take care of the rest.
Alfredo was, and is, so right.
Loose hands on the wheel is the way to go, then and now.
---
Featured image: "Bus" pixabay photo by MichaelGaida is in the public domain using CC0, edited to add "netnarr" and "Alchemy" to the bus