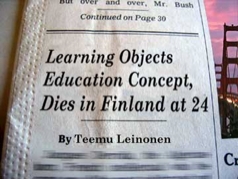 Did you catch the obits?
Teemu Leinonen, one of the members of the FLOSSE Posse has bravely cast out the notice in "Learning objects – Is the King naked?". He argues that the IEEE definitions of "any entity, digital or non digital hat may be used for learning, education or teaching" is broad enough to mean nothing, or that if everything is a learning object, what does that mean?
Because any entity in the universe – digital or non-digital – can be used for learning, education and teaching… I know that many people are using the term "learning object" when they talk about pictures, graphics, simulations, piece of texts, video and audio clips that are specifically designed for learning purpose and can be combined together to build up larger learning material units. This all makes sense. But why should we call them "learning objects" and not just learning content, or pieces of learning content?
I could not agree more. All the piles of effort to define what us a "learning object" has gone back and forth across the academic papers and presentations, but in the end, I must bring up the ghost of Clara Peller to inquire, "Where's the Beef?" Meaning, where is all the content that has been created form the re-use of all the things piled up inside the "repositories"? Where has a so-called object been "recontextualized" with a set of others into something new? I've been looking for a while and coming up empty.
Submitted to perusal is the New Conceptual Framework Learning Object, heralded as:
This learning object helps students struggling to create a conceptual framework or concept map for a major project or thesis. It includes narratives, examples and resources to guide students through a 5 step voyage of learning. The roughly 2 hour experience with this object will be time well spent by students or teachers struggling with the challenges of grounding their research and developing questions in an appropriate research framework.
I am not leveraging any criticism at this piece of content- it is nicely done with a consistent map/voyage metaphor, and is rich in media. Again, I like the content. I might see linking to it or recommending it to someone. Check it out first: http://innovation.dc-uoit.ca/cloe/lo/cf/.
What I find curious is a great del of self referential statements in the so-called learning object aiming to reinforce it's existence:
This learning object has been designed so that you can navigate through it in two ways. You may follow the prescribed route as indicated on the map or you can jump from island to island in whatever order you desire. We strongly recommend that the first time through you follow the suggested sequence.
You should use the navigation buttons provided in this learning object and avoid using the "Back" button in your browser.
What can I do with this "object"? How can I re-use it? How can I "recontextualize it"? What is it exactly I can do with it?
Here is the big answer.
I can link to it.
It is a web site, a pretty one, one with a variety of media, but it is really a nice piece of content. If it were published 15 years ago as a HyperCard stack, or 7 years again a CD-ROM, would we call it a "learning object"?
I see nothing about it's billboard sign declaring "I AM A LEARNING OBJECT" that lends itself to any more re-use than any of the other say, 10 gizzillion things on the net (again, I am NOT leveraging criticism at the media, the content).
Well the point has been labored to death here.
What I see, think this is going is more in line with the presentation made by Richard Baraniuk (Rice University) at our Ocotillo Retreat last week, "Open-Access Publishing in Education – Building Communities and Sharing Knowledge". While a good chunk of his presentation was meant to stimulate controversy and discussion over his end of the Cretaceous Era prediction for text book publishers (duck, dinosaurs!), in reference to his vision and efforts with the Connexions Project, he refers to not "learning objects" in "repositories" but "learning content" deposited in a "commons" (deliberately with ties to Creative Commons). For more, see the PDF version [2.3 Mb] of Richard's slides.
Maybe I too am just arguing over naming conventions, but it is no wonder audiences and faculty groups I work with are still fuzzy eyed when I try to described "learning objects". What have we gotten for all the expended energy?
I do have to acknowledge the expertise and perspective of Scott Leslie (see his take on the FLOSSE decree), that regardless of the road we take, keeping or putting a fork in learning objects, to not forgot the original reasons behind the LO movement
But my small fear is that in throwing out these terms, we'll also throw out many of the problems they were supposed to be trying to solve – namely enabling learning content to be shared and found through means that were otherwise unavailable (e.g. searching on pedagogically useful terms that were either not directly part of the resources themselves, or else for resources that weren't served well by conventional web search engines), and having formats for learning content that allowed it to be reused by as many systems as possible without major alterations (there are many more problems they were supposed to address, I know, but let's leave it at that for now).
Let's get to the content!