After toying a bit with Jots yesterday getting the bookmarklet tool to work, I am getting to like it more and more as a bookmark manager. I might be switching from 'furling' to 'jotting'…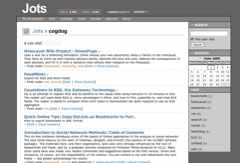 It more or less has everything you get with del.icio.us, meaning easy bookmarking, searching, tagging, rss feeds, seeing what others are marking, but being a newer kid on the social bookmarking block, it seems more responsive, cleaner interface, etc. Plus it has the ability to create groups of "privileged users" (need to think more about how that might be useful).
I will be toying with it the next few days, weeks to see if ti is worth sticking with, my jots site is http://jots.com/users/cogdog with RSS feed http://rss.jots.com/users/cogdog.
But the unique feature is the built in API to automatically post a days worth of bookmarked sites to your weblog via XML-RPC interface. The editing page for it just needs the URL for a blog's xmlrpc file (which for WordPress fans is just http://……your_cool_blog_url…./xmlrpc.php). It uses "AJAX" technology to get the blog settings, and select a category which to post to. In theory, after midnight (their time, my time??) Jots will auto post my "jotted" sites to this site.