Google is certainly sitting idly by while Yahooo ramps up its personal services. Check out the new Google personal home page, where you can select from a number of RSS sources, or connect your own:
This was a quick set up with some of my own feeds, important weather selections, and a few of the presets that Google provides. Note many of the cool (yummy Ajax) in page editing. It is smooth. Note how can can re-arrange the layout by just drag and drop. Wishing a pachyderm might do that some day.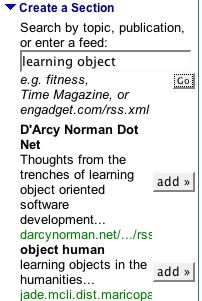 I'm still musing how one might truly use this– it would be nice for folks like me who move from computer to computer. What sorts of feeds might one want to fit into a page.
It's kind of interesting when you plug in keywords to the create a section — somehow Google is searching for RSS feeds to provide here. Hee hee, when I went looking for Sasquatch… er… I mean "learning objects", look how Dr. D'arcy shows up as numero uno!
Yup, D'Arcy Norman is number one learning object… just a shared ahead of Boris, a fictitious blogger we invented ;-)
Most likely this is an early phase of more great Googly stuff to come…. a tip of the blog hat to Robin Good for this find.
And speaking of Google– I must be the last person on the net without a gmail account. I never bothered when a few floated my way, and apparently you still need a top secret invite to get in. Does anyone have a spare gmail invite?
Update: D'Arcy got me the gmail invite, so no more please (thanks David Miller for being second).