Where else but the internet could this happen? More than a year ago, I got an email from someone in Germany working with a music group called "Sea Level". They had somehow managed to find this photo I had lumped somewhere in an old photo directory: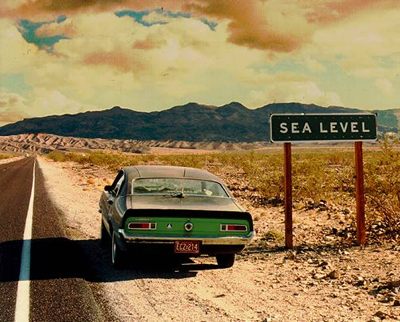 This photo was taken in Death Valley California with one of those ancient 35mm cameras back in 1988. As a grad student in geology, I drove through here a few times on my way to see the famous Bishop Tuff. The car is a long gone 1973 Ford Maverick, the vehicle I drove from Maryland out to Arizona when I moved here in '87.
Anyhow, they asked me if they could use the photo for the CD they were recording. "Sure, why not?" I responsded… since they image they had found was an old scanned image not at optimal quality, I dug through my old photo albums (remember the ones that were like books?), and scanned them a new hi-res version.

Time goes by, and today I get an email from Berni saying the CD has been released! If you visit The Sea Level site, the old Maverick is there along with the preview of the CD cover! And they are sending me a copy of the CD.
Now how else could a band in Germany locate on a web server in Arizona a 17 year old photo of a 22 year old car sitting next to a sign in Death Valley bearing the name of their band?
It helps to constantly be amazed!
Also, I was exchanging some nice e-mails with Jeremy, who stumbled onto and enjoyed my old collection of Arizona and Sonoran desert photos. Wow, it's been a while since I even looked at them, and am envious of the time in my life when I was out there taking all the pictures.