Through some forgotten path I came across Podzinger, a search tool that claims to search for keywords inside a podcast, and offer audio playback links to the actual segment itself:
Podcasts have been subjected to the same primitive search through categorization … until now. PODZINGER looks inside podcasts, not just the metadata, letting you search podcasts in the same way that you search for anything else on the web.

When you type in a word or terms, PODZINGER not only finds the relevant podcasts, but also highlights the segment of the audio in which they occurred. By clicking anywhere on the results, the audio will begin to play just where you clicked. There are also controls that let you back up, pause, or forward through the podcast. Or you can download the entire podcast
This touches on a real interest of mine, having URL addressable segments oif Big Fat Media, as beautifully demonstrated (with working code) by Jon Udell a year and a half ago. As is podcasts, and digital video are published as Big Fat clumps of media, to use them you are left with listening/viewing start to finish, and you cannot easily remix them without advanced editing skills.
So the premise of podziner sounds good- a search engine that drills into the content, and a mechanism to say, link to an audio segment 10 minutes and 24 seconds into a 85 minute podcast. So there is a keyword search (note that use of full quotes like Google will make it a phrase search). My search was on the phrase online testing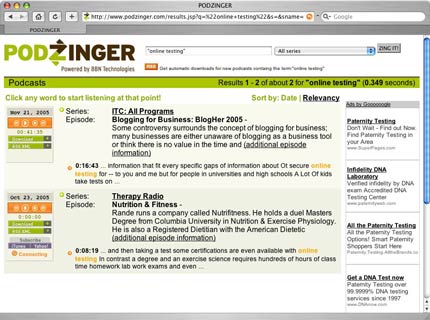 I cannot locate a full list, but apparently Podzinger has a fixed list of sites it searches, though sites can add their feeds to the search mix. And it works on a smaller range of browsers (Not Firefox on a Mac). You get a small audio player on the left, an ability to download the source MP3 or add to iTunes.
In addition, I had trouble with most of results getting the "zinged" result to play back, many of them posted messages like:
I was only able to get this to work after 3 or 4 search attempts, finally just on the word "ajax", landing on something from Adam Curry. Here is what is no impressive- it lists a result at 12:40, but rather than the little link jumping to that segment, you actually have to sit and watch the counter flip by maybe 2x or 3x playing speed until it cues to the location:

Also annoying design-wise are the tiny left side audio controls that take some pretty precise clicking, and that the highlighted words in a search result are in orange text, the same color as their hyperlinks, leading one falsely to believe they are links to.,
So the concept it on point, the execution of it is a bit lacking, but should improve with time. It is in the right direction of audio search.