I am quickly working up ideas for my Monday demo session on the "p-casting" word. Thinking about some of Cole's comments desiring simplicity, I slapped my head in shock as I realize that Odea was a tool site I had known about, bookmarked, but had not really explored.
Someone else can better summarize what it does, but it is free, and certainly a Small Piece of the Loosely Joining variety. You can subscribe to podcasts, tag 'em, but more– you can record directly into a Flash tool a short audio (3 minutes), and you can even phone in a recording. I am sure there is more, and I am still at the playing level, but it seems to offer a simple interface for doing record and publish audio. You can set up different "Channels" and these can have their own RSS feed and podcast subscribe links.
I did a quick and silly recording directly in Odeo, added a silly headset image, and published in about 2 minutes: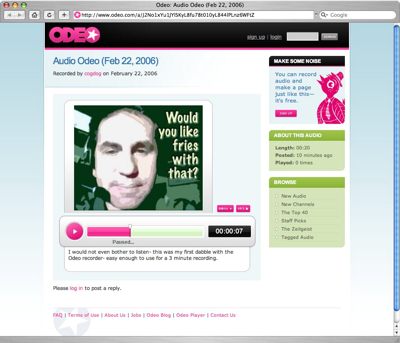 The sound quality is good.
Is anyone doing anything beyond such silly play in Odea? What else does it do worth sharing with my faculty audience?