My mind is a leaky sieve. Last year, there was a neat web contest for people to submit an example of a digital story down i video format– with the limit that they had to be under 60 seconds– this was the 60 Second Story site.
I was more curious about how it worked, and usually when my curiosity is raised with technology, I jump in. So I quickly outlined a story about my first special dog, a Dalmation named "Dominoe" who ventured west with me in 1987, scanned some photos, laid them out in iMovie, and overlaid an audio track. It maybe was 60 minutes of production.. well maybe more. So my "Domninoe" story made it into the pile: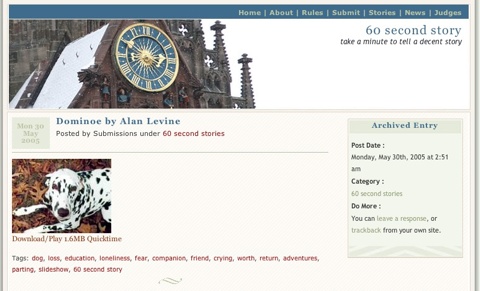 I went back to peek tonight as I was grabbing a video example to use for a podcast demo tomorrow… I needed a clip to toss up Ourmedia, to check if it could be rolled into a podcast via Blogger + Feedburner.
And vavoom, what a surprise when I got to the 60 second story site, and saw that my hasty little story made it to number 11 in the judging (and there were more than 11 submissions… I think).
Also, for grins and comparisons, I uploaded the same QuickTime movie file to Vimeo, a video sharing site that gives you 30 Mb a week of video you can upload. The resulting video plays back as flash, and looks pretty good.