The clever blog post entry title not used here was "Museum People Have Great Assets". Last week I was in Austin all week, not to soak up cool music or wander aimlessly down 6th Street, but holed up in an anonymous, freeway junction hotel for the first of several NMC training sessions in support a new project. The web site is yet to be done (ummm, that is in my court now). This project is supporting art museums from across the state of Texas to develop new online interactive pieces, built in Pachyderm — and tying in with the concepts of digital storytelling, with the aid of the Center for Digital Storytelling.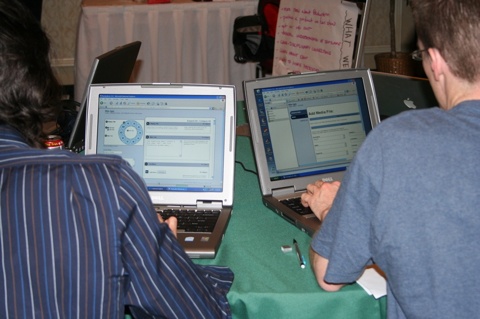 So this was a 3 day 'boot camp'– not only in technology, Pachyderm, digital video, photography, editing sound, lighting, but also sessions by the brilliant Joe Lambert on the notions of "Storymining" an approach for creating content that was not so… well, sterotypical of a museum tour. Hanging out with Joe and seeing how he works a crowd was a gas, as was my colleagues Rachel and Larry at NMC, our incredible support staff, and Tim S from the SFMOMA, birthplace, if you will, of Pachyderm.
We all pitched in for the entire workshop; my specialty was showing folks how to record and edit audio in Audacity ("is it really free software? why?") and they were very intrigued my the recording capability of my new little iAudio.
I am still processing and reflecting on the experience– by the end of the third day, we had some great frameworks for perhaps 7, 8 new Pachyderm produced content pieces, participants had a good sense (it seemed) of the basics of digitizing assets and building Pachyderm content.
I must admit my level of expertise in Pachyderm is novice (never having pried enough time in my previous gig to do anything with it). Authoring in this runs counter to most strategies and approaches for your typical linear or minimally branching multimedia content (see the Pachyderm Showcase for some sense of how on linear it can be). It truly demands a lot of upfront planning, sketching, outlining, storyboarding, not jump in and start free will authoring. And you can only (it seems) go about Pachyderm building once you have a strong sense of the structure, features, and link-ness of the different screen types, and you only get that sense by building in Pachyderm. So your first 2 products ought to be considered "practice" unless you are good, lucky, or better planned than moi.
So rather than try and wax on in words, I'll let some photos tell the story, or at least suggest it.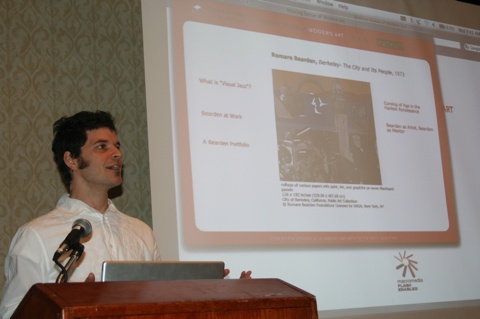 Tim S from SFMOMA describes the "layering" approach used by his team.

Picking assets to load into a new Pachyderm screen.

Joe Lambert lends some storytelling expertise.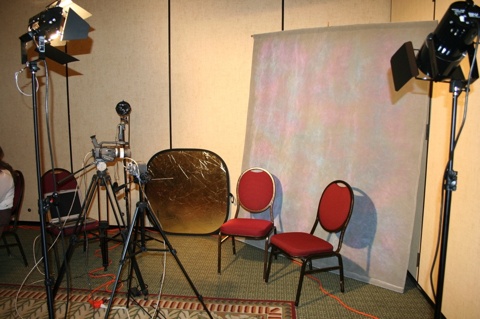 Video studio, where we demo-ed shooting digital video interviews, lighting, and microphone set up.

Choosing which media to use for a new screen.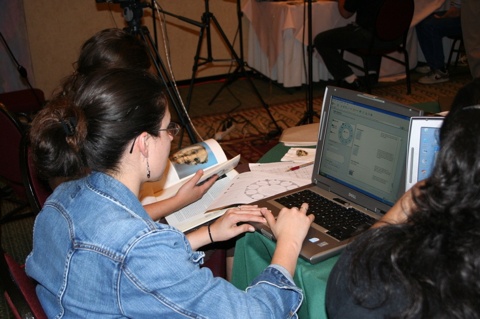 Editing a "phone dial" screen.

We were treated to an evening tour of the Blanton Museum, located on the University of Texas campus,a very inspiring place indeed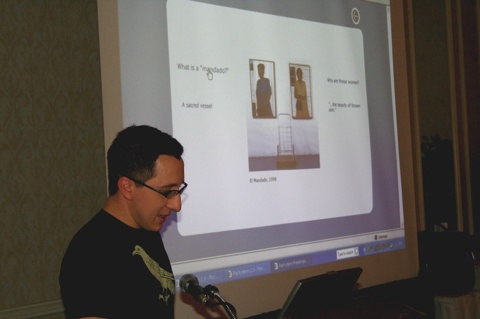 At the workshop closing we were treated to demos of some new Pachyderm content.