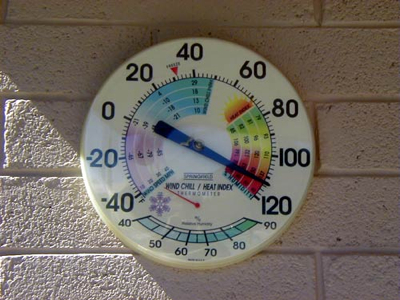 There is no place like it, even when the outside temps are a moderate 112 degrees ;-) After about 9 days straight of work for last week's NMC Conference in Cleveland, I have a few days set aside for catching up on home stuff like:
* replacing a cracked disposal in the kitchen sink
* trimming some tree limbs
* converting our swimming pool from the un-lovely shade of green it turned
Already crossed off my "todo" list was watching the last episode of Lost, something I had taped a few weeks back and had not gotten around to watching. That is my one televised addiction.
Since taking the NMC job and working at home, my wife and I have downsized ot one vehicle (thought the pick-up is not all that fuel economical) and are trying a lot to minimize our vehicle use. So today, for example, I needed to get the pickup from her office and take it in for repairs, so it was an early morning 2 mile bike ride to the truck, drop it off a half mile south, and ride home. At 9:00 AM it was likely pushing 90, but still, not too bad. It was a tad toastier at 3:00 PM when I rode the bike back to pick up the truck.
Even as oven hot as it was, when you are moving and have a goal, it can almost by a hypnotic trip.
Anyhow, I am catching up on some other tech related tasks, and I finally got all of our audio prepped from the conference to add to our podcast feed, along with a video that was shown at the Second Life session last Friday. Those should appear here and there in a few hours. I am also spending some fry time flying and buying (e.g. exploring Second Life) and showing a few folks around. Wednesday night, we have a group of grad sudents visiting the NMC campus, and I am supposed to rise to the occasion of expertise or something akin to that.
Here is a clue. Every time we hear someone cliche, "but it's a DRY heat", you want to drop a hot brick on 'em. What does that really mean? Your oven is a dry heat. A blow torch is a dry heat. We know it is hot. It is as empathetic as saying to a Buffalo resident, "It's a SOFT 12 feet of snow".