SocialMeter looked interesting- enter a URL and it pulls some stats from major services like del.icio.us, Digg, Furl, Google, Yahoo, technorati for how many times the URL has been bookmarked. It returns a total hit count, and you can click each service to yank up its results.
Of course, just like one's first foray when GoogleMaps added the imagery (wow, I can see my house from space!), the first thing one does is a bit of ego surfing.
So a SocialMeter for this CDB blog got a 1467 1517 score (what does that mean? who knows) nearly all from Google and Technorati.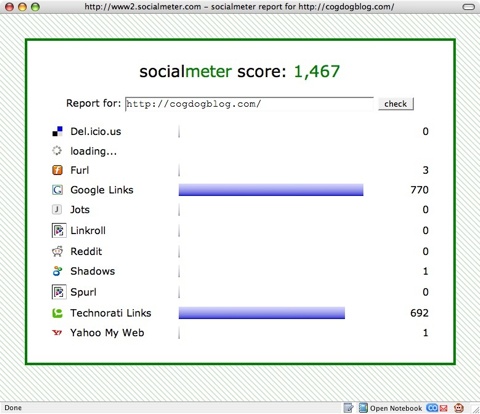 And I took another swipe by socialmetering the original Feed2JS site (interesting as the site no longer is even there…. hey someone at Maricopa, check the darn server!), where it pegged a 4200+ 6213 score with almost all from Technorati (it gets zero from Google since the site no longer can be reached, so who has the more sophisticated robot??):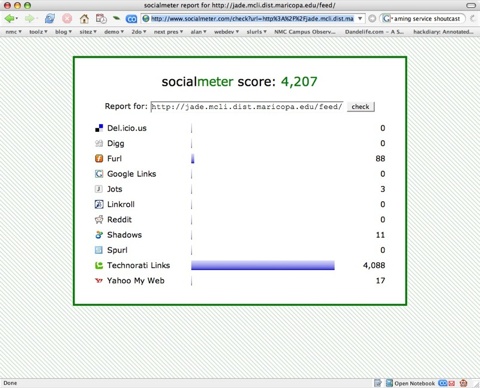 Now this might be in the realm of lies, damn lies, and weather forecasters… I was unable to get any URL to register a non-zero del.icio.us score, using sites I know are bookmarked there. Update: this has been fixed, and rather quickly. Nice going!
That said, it's an interesting tool/idea, and would like to see it pan out– I also think a weighting system should be in there (not sure how) as the services are not all equivalent in scope, usage, and purpose.
So who can get a high score (pills, porn, and casino, and other cockroach infested sites do not count)?