Very cool– after reading on TextCrunch about Introducing SlideShare: Power Point + YouTube I checked out the site to see its one of those betas. But you can ask to get in, adn I got an account before I had finished lunch.
TextCrunch is right- this is YouTube for PowerPoint, even the interface is a dead ringer for the popular video sharing site. You upload those heavy, creaky, bullet laden PPTs (20 Mb limit), and Slideshare converts it to a Flash format, that can be embedded in a page (see below), direct URL linked (once the site goes public), tag shows, share them, and all the now run of the mill groovy social software stuff.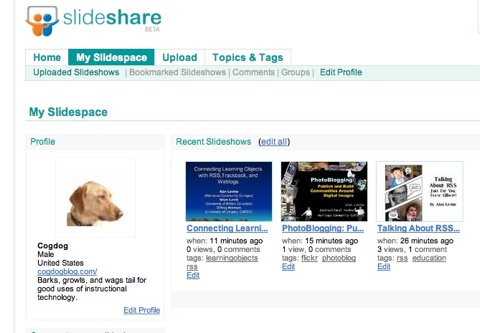 My "slidespace" showing slide shows I have uploaded
As you search, browse tags, and look at a Slideshare page, it is just the same function as YouTube:
And from here, you can thumb through the slides, flip to full screen mode (which looks great). They even consider slides as "micro-content", so via the URl you can link directly to slide 15 in a show.
So for testing pleasure, I uploaded a PPT from 2003, that was used with my amigo colleagues Brian and D'Arcy when were serious about Learning Objects– the original was created with our audio as a Breeze presentation for the 2003 NMC Online Conference on Learning Objects; see the original Connecting Learning Objects with RSS, Trackback, and Weblogs— and here is the Slideshare version (sans audio; I just grabbed the quickest PPT I could find:
It may be a fantastic tool to bring PowerPoint into a ____.0 phase.