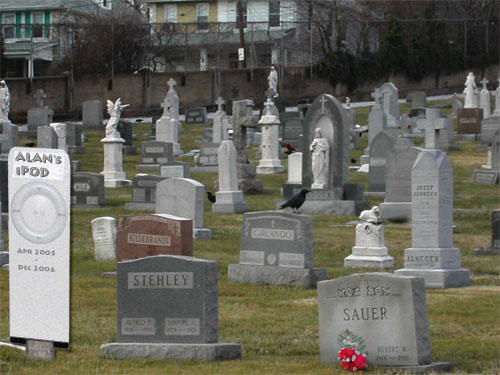 Remix of original cc-licensed flickr photo by crowulf
Alas. my iPod Shuffle is gone, softly in the night. I'd noticed a few weeks ago that it refused to work in my car via my DLO Transpod FM transmitter, just blinked orange. Since it played music via my head phones, I thought it was the transpods fault, and for a bit I played it via the audio input.
But trying to recharge it, the darn thing refused to mount on the desktop. It just blinked yellow.
And then its juice ran out.
With some googling, I found a number of others who have gone through the loss as well, and the Apple Reset tool could not revive it, could not even talk to the stiff. Inserted into my PC, Windows said, "Dead USB".
So it's time to say goodbye to little Shufflt. I can remember fondly the day we met.
Okay, we can dispense of the melodrama and go shopping.
One more bark.
When I thought the issue was with my DLO Transpod, I went to the support section on their web site. Here "Support" is only "Download The Manual". That is all they offer, not even a trite FAQ, no way to contact the company. I know of numerous free products from small companies that offer way more in support. Twp paws down for DLO.