It was time to make the run to upping this WordPress site to the current version, 2.1, nicknamed "Ella". Hey, it is jazzy! There are promises of better code under the hood and some new features I've yet to really look much into.
I'm pretty religious about following the upgrade instructions, backing up the static files, making a database dump, shutting off the plugins, downloading newer versions of the plugins, etc.
But I also took the opportunity to do what I should have done when I move my site to Dreamhost, which is to use their "one-click" installs as it makes future updates, also one-click. But I was able to jump my previous install on board without too much sweat or cussing.
First, I moved the entire directory, which includes not only wordpress but a few other piles of content, to a temp directory on my server– this gets pretty easy using Fetch (perhaps the piece of Mac software I have used the longest, it is the champ) for my ftp — I open a second connection to my server, so I can drag content form one directory to another pretty easily. Once my main directory was empty, I just cranked up the Dreamhost Control panel, and ran the one click install, telling it to use the MySQL database table that already existed (crossing my fingers it would not wipe it out).
And it worked like a champ, just did the one click wordpress database upgrade, and my site was there… uh oh, it is old skool default template! How romantic!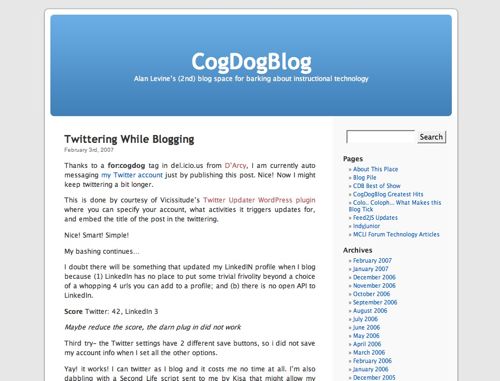 I thought about leaving it like that.
But all I had to do next was to drag my theme directory from the holding pad to where it belongs. Woah, Neo! Dreamhost socked about 25 templates in the directory. Handy if you dont have one yet, but I slogged them to a different place, as I did not want them all loading up whent I go to edit my theme.
Next, I uploaded newer versions of my plugins, and started re-activating them. Rather than one by one, I try 'em all and hope for good fortune.
And it seemed to be all kosher!
Only test now is that Twitter plugin I spoke of earlier today, since that's not on the list. I've activated it, and this is a test of the CogDogBlog WordPress Twittering Operating System…. Beep!
Nice features seen so far:
Autosave as you draft. I've lost more than a few either due to human or wordpress error
A Files manager not sure what it does, but seems to allow you better access to your files that are edited form within WP.
Better Upload Form for composing in WP, having to always tell it not to use thumbnails everytime was a pain, now it remembers my choice (I think)
Sing, Ella!