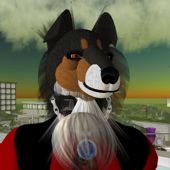 Although being rather involved in NMC's Second Life and Virtual Worlds endeavors, I've yet to find or blog much on the experience there over the last 9 months or so. My SL namesake will turn 1 year old in a few months, though in many ways I feel still like a puppy ("In Second Life, everyone knows I am a Dog!").
This is not one of the foaming praises of SL as the Web 3.0 nirvana That Will Solve Many Problems and Transform Education As We Know It– yet at the same time, I am not interesting in the pissy dart tossing from the opposite sidelines where the naysayers guild hangs out. Over the last XX years in dabbling in technology, I have stuck with a strategy of not being too decisive on something that is new and offers potential. And in the last year I have had more powerful experiences in terms of extending my professional network, discovering new technologies, new people, via events, activities, and networking with others in and around SL. And when that has happened, be it over the years via flame tossing listservs, twsting Gopher holes, the emerged blogosphere, my interests are peaked.
But inspired by some sweeping visions cast by Bryan of the Northeast on Towards Third Life I am compelled to put keypresses to the blog. While I may not be ready for this vision, I applaud Bryan for putting this out there, and stirring up some good dialog.
My tiny observation that has been swimming and whispering, "Blog me, blog me…", is that the things that take place in SL and other virtual spaces are very temporal; so if you miss something, or arrive late, there are really no records. This is very different from the focus for me of the last 10 years of web, web, web. Oh there are things built, lavish structures, cool script bound gadgets in SL, but a significant difference is that the things done in the web space leave a trail, a record, while in Second Life, things flow in the moment and move on. What has happened than is passed by other means, be it word of mouth ("Did you see that guitar performance of Johnny99 Gumshoe last night?", "What the heck is with that crazy fur she was wearing at the meeting?"). And that there is a major role for the outside of Second Life/ virtual worlds tools of blogs, podcasts, archived video clips on GoogTube, wikis, etc to document, keep a record, etc. So I see them as symbiotic, maybe. Or connected.
So to that end, there needs to be more connections, apps that bring web content into and out from SL/VWorlds, not that Second Life becomes Web X.0, but that is does a much better job of being able to communicate to/from the web.
I'm extremely far form having true expertise in this arena, so am just sniffing around with my curious ears up. I don;t even have much time to wander around SL besides the NMC related things that take me in there (I had to laugh when Bryan Alexander actually thought I built the NMC Campus, hah! My building schools are in the realm of piles of plywood cubes). And next month, I am in North Carolina for the EDUCAUSE/ELI Focus session on "Immersive Learning Environments", actually even more scary is that put me on the programming committee and I keep asking, "What the heck is an Immersive Learning Environment?" But it's a great crowd of colleagues and I'm eager to see how it unfolds.
Enough blabbing, I have to go shopping for some new Second Life clothes.