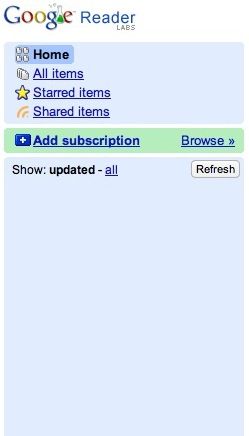 Whew, finally got around to cleaning out my Google Reader. Not to say that I actually "read" them all, but sifted through, and Shift-A'd through some feeds with 100+ unread items lurking.
Of course, this screenshot may imply that I don't subscribe to anything.
By the time I publish this post, the sidebar will start puffing out.
But there is some satisfaction in fooling myself that I have absorbed all this information from the 50 or 60 sites I subscribe to.
And actually the last thing I did read (and Shared) was Will's pointing to a stunning example of what can be done with the new features of Google's MyMaps — the Route 66 history tour. I've not even sniffed out the shiny new Goog-tool, but my gut says that maps as an authoring tool are going to be very powerful for educators (or anyone trying to create a map that organizes and links to information — kind of what Joe Lambert has been doing with Storymapping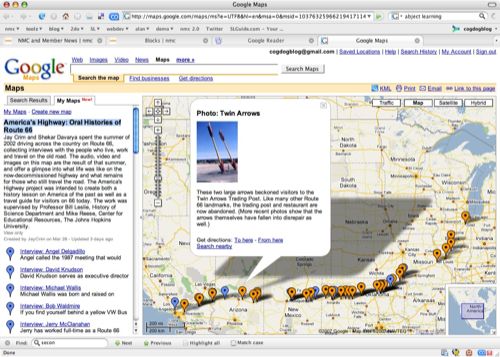 As close as the song gets to Twin Arrows is "Winona", a lonely stop a few lumps of metal short of Meteor Crater…
You see Amarillo and Gallup, New Mexico
Flagstaff, Arizona don't forget Winona
Get your Kicks, on Route Google MyMaps!