I think I have a new mode of developing my workshops and presentations, which of course, does not involve crafting it way ahead of time– but rather than doing my planning, and taking my best shot at it, I am now just tossing out some half baked ideas, picking up feedback/suggestions, and asking people to look at half done wiki pages.
Call me lazy (I do), but I think in this realm, that there is a severe contradiction and pitfall of one person being "experted" in such a fluid, moving, organic, ever expanding at a rate exceeding the speed of light (last one was hyperbole), thing such as web 2.0 (whatever that is). No one can, no one. If they say they are an expert, put on the liar detection goggles.
For my upcoming October trip down under, of course folks are asking me to be such an expert. From an american galaxy far, far away… What I see when I scan for resources are hitting poor audiences over the heads with a giant, logo colored stick — the usual mega laundry list of "Arent These Cool Things to Do On The Web: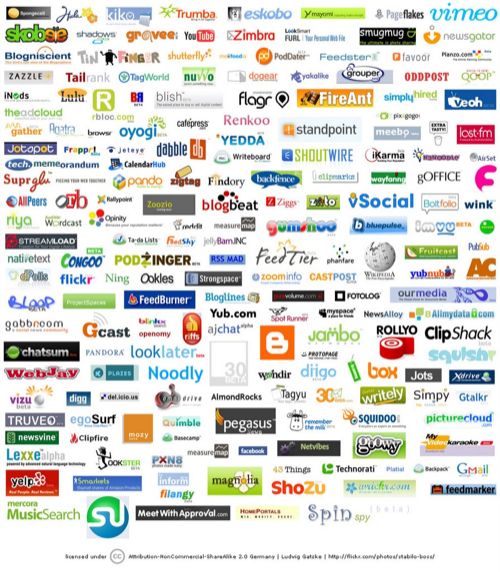 http://flickr.com/photos/stabilo-boss/sets/72057594060779001/
Don't get me wrong- Big Lists are great resources, references… but let's say, I want you to help me write a poem. Do you just toss me a dictionary and say, "Look at all these great words! Just use them!". If I want to visit an exotic part of the world, do you bing me with a map and say, "Just pick a country!".
My hunch is for someone new to web tools, leery of using web sites, mildly skeptical, just hitting them over head with a pile of web sites is not very effective.
My approach is going to be perhaps two pronged -one is to demonstrate some perhaps subtle lesser known things one can do with well known web tools (e.g. annotating images with notes in flickr, building a podcast set in del.icio.us, using the for: tag in del.icio.us, tracking your name or web site in Google Alert or technorati…) and second, to highlight a few web 2.0 tools that may not be so tech-crunched or well known, but ought to be of interest to educators. And n be able to say why…
So I appeal to you, blog readers, to give me an idea of some web tools (who gives a hoot if they are"2.0″ or not, I am not mired in definitions), that you find very useful but perhaps are not so widely known. I've asked via twitter, but here, I can really go beyond my 140 character speech.
What might I mean? Well let's say:
What are your own secret gems? Let me know, I'll share, I'll give you credit, I'll bring you opals (just kidding).