Link spammers never sleep. They are hard at work breaking around the edges of our futile efforts to keep 'em at bay. And now they are getting harder to sniff out at first glance in the moderation queue, as they clothe their efforts in false fronts, which, if like an old wester ghost town, when you peek around the corner there is nothing there.
Link farms are sites aimed at one miserable purpose- boosting Google Rank. What they do is create tons of inward nested links, a few outward ones towards their client sites (the ones they are trying to boost) and try to get links to their sites by spamming blogs with comments that backlink to the farm. If you ever follow the links back to the farm, the daily posts are not posts at all, just a list of snippets copied from other blogs.
So one tries to sense the patterns. Today's offended goofed by link spamming from two different fake blogs, but each originating form the same IP (this must be a baby spammer, pretty dumb to do that). IP now blacklisted.
The post it linked to sure had the characteristics of a link farm:

It nearly always starts with "unknown wrote an interesting post today…" followed by a snippet scrafed from RSS likely, and is accompanied by Google Ads at their intended targets (deliberately blurred in this shot).
There will be hundreds of similar "entries" in this "blog". Usually I dont even bother going this far, but sometimes, I try to suss out what this is about. After all, this one is not on a free blog service, or at least they registered a domain (invested $5 for their spam activities). So the front page has a different take on this it reads more personal:
Greetings fellow internet user! Welcome to my little nook in the internet. Me llamo es Riley Evans (lol). I live in Delaware, which is okay, but gets mundane sometimes. I attended Delaware State College for 4 years. I finally graduated from Delaware and currently have a Associates degree in Religious Studies. I'm quite proud of myself for that accomplishment.

I don't have a lot of dreams for this site, other than to show the world what my favorite sites are and some of the things I see online. There are many fantastic sites out there, and I want to share the good ones I find with my readers. If you read further into this site, you'll discover lots of pictures, some of my favorite videos online today, and many links to my favorite sites, most of which I visit daily.

Thanks for Stopping By!

Riley
That it follows by a section of "Random Snapshots of Peeps", some small, unlinked images of young people, supposedly Riley and her buddies:
and favorite links art the bottom, pointing to Amazon, YouTube,, Borders, etc.
Maybe its because I went to school in Delaware, but without thinking, I fell for this. Riley sounded real.
Until, the next note, from Britt, who had tried to submit the same comment to the same post from the same IP, except, Britt's story was:
Hey There! Welcome to my new website. I go by the name of Britt Phillips. I was born here in Wyoming, where I love it, but it gets boring sometimes. I loved high school, but college was much better. I loved the University of Wyoming, and so I spent 6 years there. Eventually I graduated with a Associate's degree in Architecture from Wyoming.

I don't have a lot of purpose for this homepage, other than to show off some of my internet findings and practice my HTML. I see great sites all the time and decided I'd talk about them on this site. Keep reading and you'll see some pictures of my friends and family, some of my favorite videos and also some of the sites I go to on a daily basis.

Thanks for Stopping By!

Britt
And what an interesting twist, Britt has some of the same photos of her friends as Riley? Do they know each other?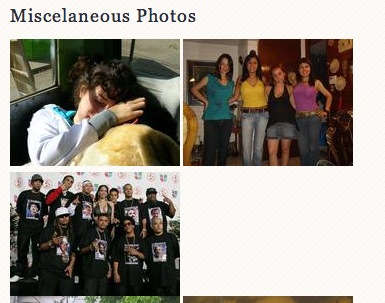 What are the odds of that?
I am not sure why I would spend this much time trying to write this up- except to keep the message out there- Google Rank is the gold spammers are looking for…. yet Google, to date, has done nothing to stem this tide ("no follow" links did nothing) that consumes effort and energy from innocent bloggers such as students and teachers who have to deal with thie torrent of fake comments.
Second- to let people know that things are not what they seem.
Third- In a twisted way, I am a bit curious about this creation of fake "Riley's" and "Britts" in the realm of looking at the concept of identity.
And finaly, if anyone cares, the source of the spam, the lookup of the offending IP is ThePlanet.com Internet Services, Inc., 1333 North Stemmons Freeway, Suite 110, Dallas TX, 75207
Shucks, and I really wanted to believe in poor Riley stuck in the wilderness of Delaware, who's only window out are the interesting sites she finds….