The word is out and another linktribution for Tim Lauer– Google Maps has replaced the hybrid map view (satellite imagery with roads on top" with a new button- "terrain" which shows topography and landforms in a shaded relief image.
But hey, dont go scanning some place like southern Illinois (no offense, but that is some flat land).
Take the southern edge of the Colorado Plateau that snakes across Arizona; an escarpment that drops like a table edge 1000 feet or more, the thing we call the "Mogollon Rim" or more familiarly, "The Rim". Here is the view of it just north of Pine, Arizona- a place we used to camp by exploring the forest roads that snake off of Highway 87:
This really shows vividly the shape of this landscape feature, and then you start wondering about the patterns- what are those dendritic, branching arms? What is growing on the smooth areas? The rough? Why are the towns located where they are?
There is just so much to explore and create learning from such rich media maps. When I was a grad student in the late 1980s, we spent thousands of dollars for a computer tape data set of one Landsat image of a small piece of Southern California north of Bishop:
and now you can get this, and much, much more, for free, in a web browser: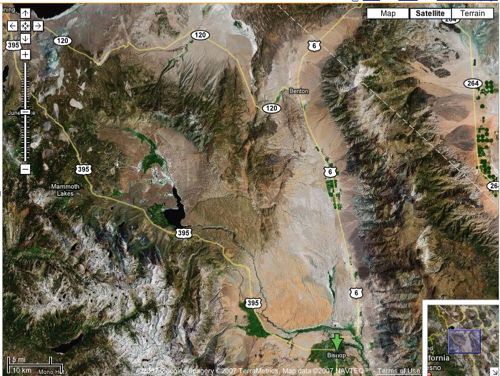 Well not exactly, as the Landsat data I worked with had data in 7 spectrum bands of reflected light, providing ways to create false color images that showed geologic relationships not seen in the visible light images of Google, but the thesis is another sordid story.
But are we really using these map resources for more than gawking, more than flying over the Grand Canyon (because we can) or checking to see if we can see the Great Wall from space? Take these into Google MyMaps (or Google Earth) and we can annotate real space; we can attach data, stories, connect to web sites…
Are we leveraging web map resources, totally free and information/media rich things, enough? I don't know the answers, hopefully my readers do.
If you cannot tell, I am a map junkie. I love maps. I love finding where I am and I love getting lost. I love place and space. I love maps.