I leave it to Phillie Casablanca to issue the Twitter Commandments now available in pretty flickr form– to jump into parody mode, "I Give You These 15…. 10 Twitter Commandments":
I too think "commandment" is a bit strong, but the metaphor is not the point. And again, if you believe there are absolute "right" and "wrong" ways to be in this web land, then I may have some beachfront Arizona property to sell you. You make your own rules.
But pay heed, less the Angel of Twitter Death (dressed as a pretty blue bird) may come knocking at your door.
Let My Twitters Go!
Okay, enough 10 Cs.
I have two of my own tips to share here. The first has to deal with the disparity of some twitter back and forths. If @johndoe follows me but I am not reciprocating (perhaps I don't know John?). If he tweets at me, will I ever know? Will the tree make a sound?
I started using Tweet Scan to track mentions of my twitter handle, which in turn provides an RSS feed which I can track in Google Reader: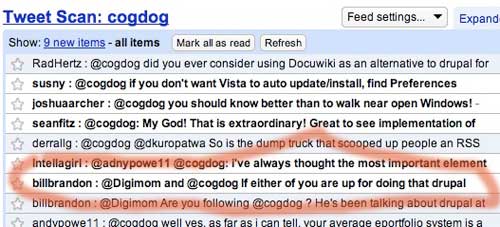 So this way, if someone I does not follow tweets me, I can acknowledge back, like in this case, @billbrandon. Or I can start following them.
The other tip has to do with taking care of your 140 characters. You may know if you toss a full URL in to a tweet, it makes it a link, and sometimes shortens it automagically via tinyURL. But if you are not careful, if you have a URl with a lot of gunk in it (like "?" and "%" from database generated links), it may choke, and then you end up with a long character string that munges up the display of your followers:

Take control of your tweeted URLs! There are a ton of URL shortening web sites– my favorite approach has been using the TinyURL Creator Firefox Extension.
This means from any page I am looking at I can access the contextual menu (right click on Windoze, c
trl-click on Mac) and select Create TinyURL for this Page:
Then you get the box that shows you the shorter URL and lets you know it has been copied to your clipboard- you can then drop it where-ever you tweet.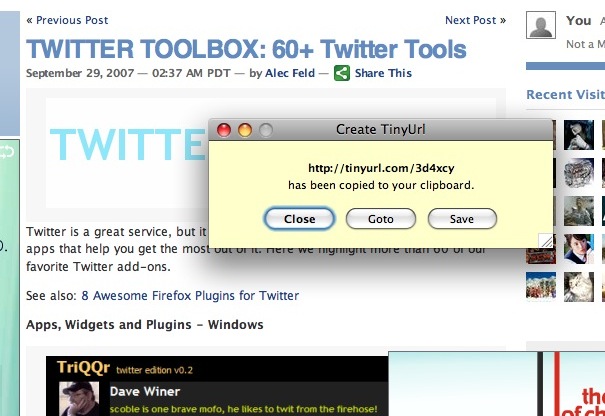 But it gets even better. If you are reading say in your web-based RSS reader, or any web page, you can make a TinyURL for a hypertext link — so you dont even need to go to a page to shorten it; just right/ctrl click that link and select Create TinyURL for the Link: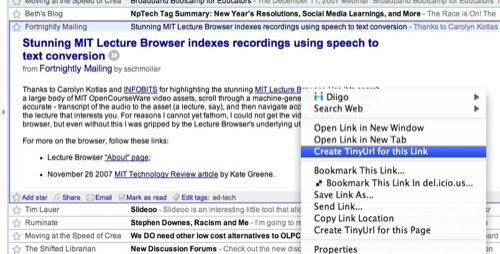 If you generate the TinyURLs yourself, then twitter cannot mess them up! And I make a lot of use of the Firefox extension for emails or web pages where those ugly long URLs just cause havoc.
Those are by two twitter tips for the road. I know there's more (Sue has a great pile!)