This past tuesday was the official release of the NMC 2008 Horizon Report like we do every year at the EDUCAUSE ELI Conference (hey Chronicle, that is TUESDAY, JANUARY 29 2008!). The full report is available, for free, as a 256k Creative Commons sprinkled PDF. Please download and share pervasively.
As somewhat of an experiment, it was actually posted more than a week earlier on the Horizon Wiki, where in fact, all of the Horizon Project's work has been there, in the open, from the start of this year's process in August 2007. Not one blogger picked up on the early listing of the shortlist, the 12 finalists. But a number of y'all did find the PDF last week and started biting into it… and we like that. We are not obsessed of keeping a shroud of secrecy on the report before we let it loose at ELI.
We had quite a crowd!
You can watch the whole thing as video as the ELI magic elves recorded and live streamed the whole session.
My usual contribution to the ELI event is helping conjure a wacky way of presenting the new 6 Horizons. This year I came up with an idea to make a nod to last year's Blues Brother theme, but twist it slightly.
So Larry Johnson, NMC CEO, started out with the typical powerpoint overview. But he then used his phone to call in "Elwood Alexander" who last year brought the horizon topics in with his Blues Brother briefcase
Creative Commons licensed Flickr photo modified from original by Cyprien Lomas
But this time, when Elwood reaches the stage, he opens the case, and tells Larry it is empty! "Sorry Larry, I must have fallen asleep last night in Second Life".
And then this is where my part comes in- I am actually in the next room, and Larry and I are in Second Life where we use voice chat to communciate- his SL client is hidden behind the powerpoint, so I boom, "Yo, Larry! I got yer Horizon Report right here! Move this *****ing Powerpoint, I can't see the audience" –and "ELWOOD! you are fired"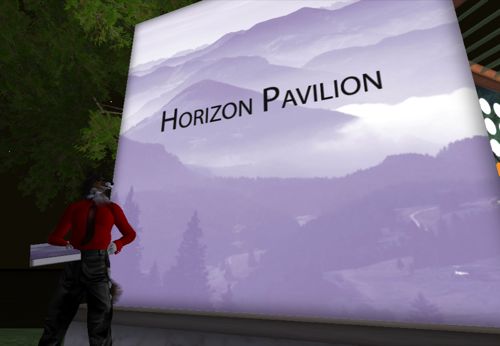 Actually, my sources in Second Life have sent evidence that Jake Noakes may have something to do with the theft:
We then walk through a beautiful Horizon Pavilion designed by NMC's talented CJ Carnot, with signs for each Horizon topic. Larry and I do some audio banter, and we have a special guest silky voiced Virginian recording of the description of each horizon that we play as audio. Listen?
I tease Larry by asking why virtual worlds are not in the picture this year; he handles the jab rather nicely.
This is more of the fun half; the second half my colleague Rachel Smith sets up the group discussion activity where we ask them to pick one topic and answer the 3 questions that form our Research Agenda, which is aimed at taking the Horizon process past just the report as people work with the ideas.
All of the info collected will be added by our staff to the wiki, but we invite everyone else to jump in as well.
As a postlude, it was great that our horizon topic of Collective Intelligence was a prominent theme in Henry Jenkins' keynote on What Wikipedia Can Teach Us About New Media Literacies as well as George Siemens' Connectivism presentation.
But perhaps the most exciting thing for a serendipty, its all about links kind of guy like me, was the session George Siemens and Cyprien Lomas did Wednesday on Visualizing Data. They demo-ed the awesome Many Eyes app from IBM that provides word use and context analysis from documents. George suggested it would be interesting to run the 5 years of Horizon Reports through the process, and I dutifully took notes. But by the time I got home and organized and unpacked, I found that Chris Lott had already done this for us!
I love this web!
As of this post, Technorati shows 34 blog references to the 2008 report, but as my experience goes, the appearance of blog posts to the big T can lag or flow with no real pattern. But we are anxious to follow the reactions, expecting both the praise and rotten tomatoes.