A majority of my blog posts are spontaneous spurts, yet sometimes, an idea takes root somewhere in the gray matter, and just sits there quietly demanding to be let out. This one has been rattling around, and tonight demands to see that publish button clicked.
So there is a strand here, some storytelling, and a cliche metaphor to be trotted out. This in many ways a commentary on the work we do in this poorly defined field I'll call "Instructional Technology". I think it was triggered by Laura's post on Fear 2.5: Afterthoughts following the excellent session she and colleagues did at EDUCAUSE ELI 2008. She openly shares her fear:
A fear I have that I don't think I articulated was a fear of being irrelevant and unnecessary.

How important is my position, really, to the institution as a whole? If my position disappeared, would anyone really notice?

Most of the faculty that reach out to me are really just asking for tech support. They want to know how to perform certain tasks in Blackboard. They want to know how to edit a web site. They don't tend to ask the bigger questions: what is appropriate technology for me to use to achieve my goals, how should I use x to help my students learn.
So it was hear I started thinking of an old metaphor…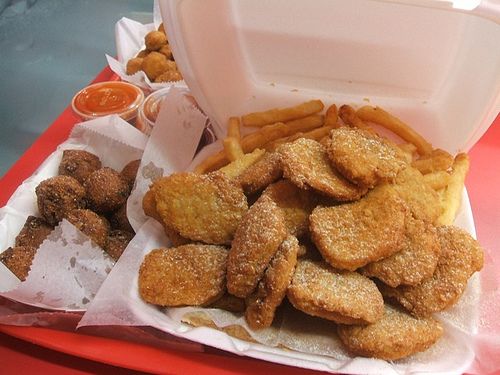 Chicken nuggets, hush puppies creative commons licensed photo image by jumbledpie
and aking myelf, "Are people like Laura stuck creating and serving fish nuggets… rather then in the fish teaching business?"

Kaylen teaches Ian to fish creative commons licensed photo image by dbang
Yes, its an old cliche (and comes equipped with optional funny alternative). I thought I read that it is a variation from Chinese philosopher Kuan-tzu who said "if you give a man a fishing pole he will be able to feed himself for a lifetime" though the popular one (and I took some liberty to not make fishing just a male sport) is lyrical
Give a person a fish; you have fed them for today. Teach a person to fish; and you have fed them for a lifetime.
Need an example? Course Management Systems are huge fish nugget factories. And we spend a lot of time, effort, money keeping the assembly lines moving. Fishing? Most things web 2.0.
But that does not really get at the core. What Laura got to in her post (I think) was the frustration of a role where ones skills and talents are seemingly downgraded by The System or not really allowed to flourish due to the needs to keep the nuggets moving. I've had a lot of fortune avoiding being on the nugget racket.
I will roll it back a bit via a bit of story. I am nor horrified to be saying things like, "Back when I started…". This too was triggered by an experience back in February when at the Northern Voice 2008 Conference I shared a hotel room with Jim Groom, that in itself is several riotous stories, but Mr Groom is an amazing source of positive manic energy. For some reason, after late hours of NV partying we'd come back to the hotel and stay up even longer talking movies and web and this weird "field" we are in.
Jim was curious about the old web projects I did at Maricopa (whew they are still there, dont trash 'em Colen!), so I trotted out a few of them, like Negative Reinforcement University. I described what a unique and special role I had there as an "Instructional Technologist" because at a district, central level of a distributed multi-college system, I was not doing direct how-to software training or supporting Blackboard— it was really a role to do R&D in technology, find ways to get faculty to experiment with them, and to so degree, try to nudge the big ship. I did almost no training workshops.
As he was curious, I trotted out my old job description (which for some bizarre reason he opened his presentation the next day with?), and ironically, I believe it was writing in the 1980s, it still holds up nicely, not that I typically consulted it:
Consults with faculty and staff in developing instructional uses of technologies; researches, analyzes and evaluates new technologies for potential applications in instruction; promotes the implementation of technological innovations; creates demonstrations of instructional applications of technologies; plans, coordinates and conducts special topics workshops in the use of technologies in instruction for faculty, staff or conferences; arranges and schedules new technologies demonstrations and workshops by vendors; provides assistance to faculty, staff and administrators who have instructional technology needs; publicizes and promotes services, resources and activities of the Center.
Yet I got thinking even farther back when I was first hired in 1992- its another long story but I almost blind luck stumbled into the first job at Maricopa as something like "Programmer Analyst/Instructional Systems" whatever that meant. What I had was a bit of teaching experience and using computers in my research a a geology graduate student. I am still not exactly sure why they hired this green kid (29). My boss at the time claimed it was because I wore an earring to the interview.
So the office I walked into, the Maricopa Center for Learning & Instruction, had several people working there as "Instructional Designers" — and I admit I had never heard of such a thing (I was coming out of a dead end career as a professional graduate student in the sciences). "Instructional Designers"? it sounded so… so… industrial, like there is a huge factory out there stamping out .. learning nuggets. They all had PhDs and had spent years memorizing learning style inventories and theories of meta-cognition (I guess, and I am saying this totally tongue in cheek- I have a lot of respect for people who focus on the question of "how we learn").
And I was a lowly technologist– "just a technologist". One ID in particular I worked with was pretty clear with her disdain, and to her the great goal of her work was to create paper "job aids"
WTF was that? he uttered it like I was an idiot not to know what the hell a "job aid" was.
My sarcastic mind muttered something about a hand being involved, but I kept my head down, as the politics of the office were not important nor was I invsted in battling this b****.
Yet I would get lots of "designs" that were lavishly formatted documents in well tabbed notebooks that were all well structured, with clearly labeled Objectives and Closing Question Checking Said Objectives, it was exciting as reading the ingredients of a cereal box. So I would nibble around the edges like, "We want them to go to this path first, but rather than make it the only option, what if the other options are presented, but there is a puzzle that requires the desired path to solve?" I looked to ditch the cheesy clip art and add real photos.
And at the same time I was mesmerized by these new tools I was discovering daily (the Stanford Info-Mac FTP site was gold sumex-aim yeah!). I was reaching myself to fish with HyperCard, Director, by building, creating, tinkering, and tapping into the fishing communities– email listservs, Gopher. I discovered this joy of creating something from nothing, of getting ideas or code from others.
I had some lucky breaks, stumbled early into the web, and found a way to connect with faculty I worked with by avoiding jargon. My boss and I tried to re-write my job description, and each effort, the Big HR machine would bat it back to the same level I was at. So giving up, I got appointed to the Instructional Technologist position, which apparently was written for one person in the 1980s (Thanks Jim for blazing the path, same guy who handed my a floppy disc in 1993 labeled "Mosaic").
And at tat level I was more responsible for running projects, working with admins, coordination all of our Ocotillo programs. Oh planning that first large retreat gave my stomach fits.
The thing I loved most about this position was I had tremendous latitude to explore and try new technologies (I am fairly sure no one knew what the heck I was doing), and not only look for fishing opportunities, but looking for different bodies of water to fish in.
Interestingly enough in 2005, I was part of a group working with EDUCAUSE who ran a first Instructional Technologist development program at Penn State University. Oh mu god what hell we put those poor people through! It was way over stuffed, designed by committee. It was there I met Vidya from Trinity University. The point was to better develop these position as leadership ones.
So I wandered down my own story path, just blabbing about the stuff I did. The point is…. well, a I look around, read, what many of my colleagues do– it sure seems like a lot of nugget production. Do we foster an environment of "learned helplessness" among the faculty we support by most of our work being workshops on the tools rather than the craft? I've heard recently professionals mutter things like "Oh I can never learn to edit wikis correctly" You have to try really hard to break a wiki.
And along these lines, I was part of some technology conversations with UBC faculty and I just relished watching my colleague Brian's face contort when someone says, "how do I use twitter in my class?" He'd say in his sweet flip matter, "I am not going to answer that" — not because he doesn't want to help, but because he wants to teach fishing, not toss them nuggets. You don't find a freaking "job aid" that gives you a 8 step recipe to use twitter in your economics class– you spend some time in the environment, and let the affordances linger with your content area, and then maybe, you develop an idea that makes sense. The great modelers I see, like Barbara Ganley, Gardner Campbell– dont rely on their tech staff to give them a recipe, they bring in their domain of knowing what they want to teach, they tinker with the fishing rods and bait, and they create a use of the tool based on a hunch, an idea rooted in their areas of interest.
So you ought to ask, "Hey Mr Complainer, how do you move from being a nugget dispenser to being a fishing coach?"
Good question!
I am so glad you asked that question!
(this are the diversions people do w/o wanting to answer).
Most likely many people are in a position that is traditionally producing nuggets. So it will take some time, perseverance, luck, creativity. My thought is you do a lot of small things. You dont try to blow everyone's hair back with Web 2.0, but go for something small that can have a quick payoff. And its not that you cannot help people learn how to use the tools, but just enough to get started. help them learn the other ways to tap into knowledge (googling, tagging in del.icio.us, being public about knot knowing how to do something and just asking for it). Toss 'em something that might help on a personal level- be it flickr or doodle or diigo or heck, Blabberize.
it means less formal training, less workshops, and more learning by doing. It means using these tools a much as possible in our processes, so they become part of a fabric, not something strange and exotic.
Heck nuggets can be better with a good sprinkling of hot sauce!
I am not pretending to have the answers here, but am eager to know if I am just ranting, stuck on a metaphor, or what?
So would you rather be teaching fishing or tossing nuggets?