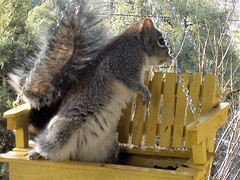 +
=
I have documented the hungry actions of the squirrels who raid my bird feeders and again. Fresa, the cutest beagle in the world just gets wild when she spots the squirrel, and gets riles up in chase/hunt mode. As I just got my Canon Powershot back from repair, I was equipped today to get a video of her squealing chase sequence.
Whats even funnier, is hours later, as I play this video and upload to YouTube, every time she hears her own baying sound on the video, she gets wired up again and runs outside to look for squirrel prey.
I am not sure if the squirrels got the message, they keep coming back.