I cannot even remember what I was doing poking around San Francisco with Google Maps, but I was looking around The City with the Street View option turned on it was along a stretch of a street I notice that as I move around, I was following the same car. This makes sense as the images are taken from a special camera mounted on top of a vehicle.
And then a flash- I could navigate around with this camera and collect still frames.. or do a screen capture. and make a movie. I call my first effort "The Streetview(s) of San Francisco" as I took a spin down Lombard Street, the "Crookedest Street in the World"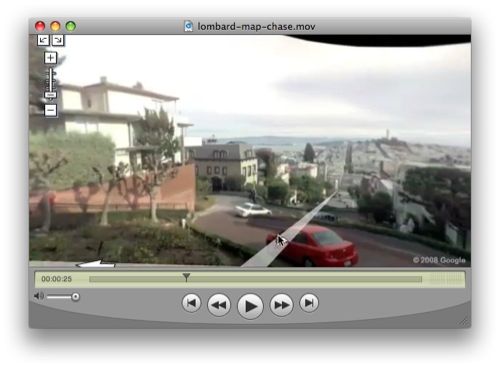 I did this in about 20 minutes on My MacBookPro.
Opened up iShowU, the Mac app for capturing screen action onto QuickTime. Set the capture Area to be right over the street view region
Started capture, navigate in street view with arrows- trick turns on those curves!
Opene the captured in QuickTime Player- ugh, the microphone caught my clicking and breathing. It needs a sound track! I use the QT tools to delete the sound track Window -> Show Movie Properties; select Sound Track; click Delete.
Find a sound track on SkreemR. Searched on "street chase" and found Police Chase from a Brazilian band called Spiritual Robots.
Opened the downloaded mp3 file on QuickTime Player. I used the edit controls to select the portion after 1:238 (the duration of my video), and deleted the sound track after 1:28. Did a select all on the audio file. Then went to my movie, and used the Select All to choose the entire movie, and then used Edit -> Add to Selection & Scale which inserts the audio track over the video.
Used the File -> export options for Medium-Broadband, and then adjusted the size options to the atypical dimensions (608×320) — I could have done a letterbox effect to make it fit
Those are the mechanics, and there are other ways to capture or put frames into movies. But more than I am wondering, what could one create by using Google Map Street view as a movie camera?